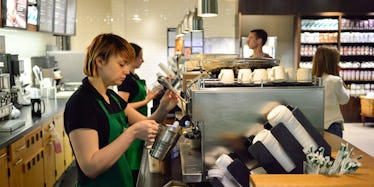 Starbucks Says It'll Pay For Veteran Employees' Family Members' College
Shutterstock
Starbucks is more than merely the personal nemesis of Jesus Christ. It's also an ally to US veterans.
The coffee corporation announced yesterday it would treat a child or spouse of each of its veteran or active military reservist employees to four years of tuition-free college, Forbes reports.
To be eligible, veteran employees must work 20 or more hours a week, as per the guidelines established in the original, ongoing initiative between the Arizona State University Online Degree Program and Starbucks providing four years of tuition-free higher education to all employees.
Although it's not clear whether or not the benefit will extend to more than one family member, the benefit is a sizable contribution, with over 5,500 veterans and military spouses ranking among Starbucks' employees.
Perhaps in light of these outstanding educational benefits, people can start forgiving Starbs for the utter basic-trocity that was the red cup fiasco of 2015.
Citations: Starbucks Offers All Veteran Employees Free College For Their Spouse Or Child (Forbes)