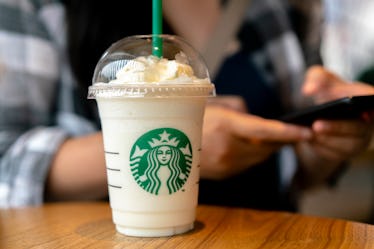 These Starbucks Drinks Without Caffeine Won't Keep You Up All Night
There are so many hot and iced sips.
Zhang Peng/LightRocket/Getty Images
Starbucks is certainly known for its classic coffees and teas that help give you a boost, but the chain also has plenty of drinks without caffeine when you don't want to perk up. When you're looking for pure refreshment without a caffeine jolt, Starbucks' decaf drinks are the perfect option. There are plenty of items on the menu with no caffeine, and there are options to choose from all year round. From white hot chocolate and steamed apple juice to blended lemonades and iced tea, there's seriously a drink for every occasion.
When your Starbucks run is more about cooling down (or warming up) rather than a caffeine fuel-up, you might not know where to start. To help you out, we rounded up some of the best caffeine-free sips on the menu. All of the following drinks have zero milligrams of caffeine (compared to the whopping 310 milligrams in a Grande Pike Place Roast) which means you can rest assured that you can enjoy the tasty beverages without adding that extra jolt of energy to your day. While most of the drinks are available year-round, two sips — Pumpkin Spice Créme and Pumpkin Spice Crème Frappuccino — are only available seasonally, so you can keep an eye out fo for those in the fall. You can also use Starbucks' store locator to find out more details on what's available when you're craving a decaf sip.
With plenty of hot and cold (and a couple seasonal) options, you'll be set the next time you want to swing by Starbucks and not leave with an extra boost of energy.
This article was originally published on