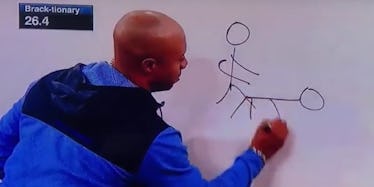 Sports Analyst Accidentally Draws Two Stick Figures Having Sex On Live TV
YouTube
Live TV can be a scary thing -- just ask the Oscars producers. You can also ask Steve Harvey and anyone else who's ever unintentionally botched a live segment.
These days, if you screw up during a live broadcast, you can bet there will be a YouTube video of that cringeworthy moment before the next day. ESPN sports analyst Jay Williams knows that all too well.
The 35-year-old former Duke University Blue Devils basketball player and current college basketball analyst is a hot topic amongst the sports world after a minor TV flub.
Williams had been discussing NCAA Tournament brackets on ESPN with other sports analysts when it was time to play a game of Pictionary, which they called "Brack-tionary."
Jay Williams' task was very simple. All he had to do was draw a picture that best represents the Duke Blue Devils. In other words, all he had to do was perhaps draw the team's famous blue devil mascot and call it a day.
Instead, he accidentally drew two stick figures having sex on live TV. He first drew one of the stick figures standing up before drawing the second in a doggy style kind of position.
OOPS! 
Once he noticed what he had done, he quickly used his hand to erase the horny stick figures as if they were just a mere figment of your imagination.
Here's the hilarious viral clip of sports analyst Jay Williams accidentally drawing stick figures having sex on live TV.
And just like that, Jay Williams has been inducted into the internet hall of live TV fails. Congrats, sir.
According to Complex, Williams was simply trying to draw Duke Blue Devils starting shooting guard Grayson Allen. As you can see, he epically failed to do so.
I probably would have believed him if he said he was trying to draw Duke Blue Devils football quarterback Daniel Jones snapping the ball... Or even if he said he was drawing this GIF.
Instead, he drew two stick figures getting it on and now, college basketball will never be the same. Hey, look at the bright side. Now, we have 30 more seconds of blooper gold that we didn't have before!