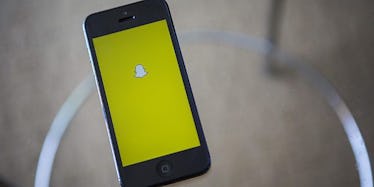 Snapchat Update Lets You Send Snaps That Last Forever And Everyone's Torn
REUTERS
Social media is having quite the week, and Snapchat had to get in on the action.
First, Instagram revealed we'll be able to share photos through Instagram.com's mobile site in an effort to push the photo platform to the billion-user mark.
Now, Snapchat has revealed some news of its own: You can draw with emojis (awesome), use the new magic eraser tool (OK, neat) and — most importantly — take snaps that last forever.
WHAT?! Snaps that last forever?!
Are we still talking about the same Snapchat we all know and love?
According to a statement, Snap Inc. was weighing different options. It said,
We've all felt the frustration of not being able to fully enjoy a snap – even after replaying it – and we wanted to give you the option of allowing the recipient to enjoy your snap as long as they'd like.
Let's explore the new time features.
Though the snap still disappears after you close it, "Infinity" allows users to look at your photos for as long as they want.
Then there's "Loop." The tool for videos allows selfie videographers to "decide if your snap plays once or loops until your friend is ready to tap to the next snap."
My friends, we're living in a world with limitless snaps.
Naturally, people are responding to the news.
Some think this is not the right move.
Others think it kind of goes against everything the platform originally stood for.
Then, there are those who are simply speechless.
Some are legit concerned, and we can't say we blame them.
Let's not forget about the people who are happy with the updates.
Girl, we are here for those bomb selfies.
Who wouldn't want this option?
Yay! Awesome news, Court!
The new way to Snap is here, folks. Just make sure you're aware of what you're snapping — that frizzy hair selfie isn't going away anytime soon.
Citations: Limitless Snaps (Snap Inc.)