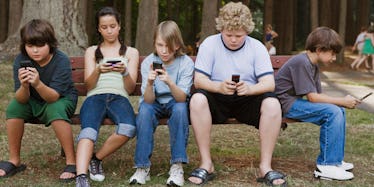 Snapchat Is Getting Sued, And The Reason Is Actually Kind Of Legit
Andersen Ross Photography
My 11-year-old nephew has Snapchat and, honestly, I wish he didn't.
I mean, don't get me wrong. We are currently sending each other funny pictures of pandas and I LOVE that. But when I go on my Discover tab and see instructions on how to properly finger a girl using a melon (yes, I know I work for a publication that creates content like this, but LET ME LIVE), I'd just rather he didn't have to see that. At least not for now.
Apparently, famous attorney, Mark Garagos, is on the same page as me. He has filed a lawsuit against Snapchat for allegedly exposing children (like my NEPHEW) to "sexually explicit" content, specifically through its Discover feature. His clients believe that it is the main source of the "raunchy" material on there... I mean, take a little scroll through your Discover and tell me you don't agree.
In the class action lawsuit, filed on behalf of the minors who were exposed to these "raunchy" materials, they seek a $50,000 payout for each alleged violation of the Communications Decency Act of 1996. What is the "Communications Decency Act of 1996," you ask? Well, let me tell you, my dear friend.
The Communications Decency Act of 1996 was the government's first real attempt to regulate porn on the Internet. And Garagos is claiming that Snapchat has violated this act, big time.
According to TMZ, he cites articles such as "I Got High, Blown and Robbed When I Was a Pizza Delivery Guy," "What It Is Really Like to Let People Finger You in Public" and a BuzzFeed post entitled "23 Pictures That Are Too Real If You've Ever Had Sex With a Penis," all as examples of ways in which Snapchat Discover has managed to violate this act.
He is also asking for some sort of order that would force Snapchat to warn viewers of graphic content. Only time will tell how all of this will play out, but one thing's for sure: I'll be monitoring my nephew's Discover tab from now on.
Citations: A bit of Internet history, or how two members of Congress helped create a trillion or so dollars of value (The Washington Post), Snapchat Sued for Allegedly "Corrupting" Children With Sexually Explicit Content (Complex), SNAPCHAT SUED KIDS SHOULD NOT BE EXPOSED TO 'FINGERING PEOPLE' (TMZ)