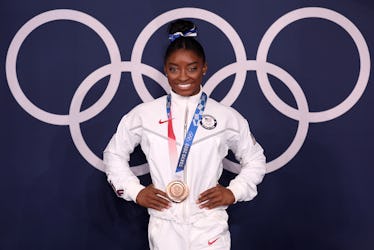 Simone Biles Got Real About Why A Bronze Medal Is "Sweeter" Than All Her Golds
The GOAT will treasure this one forever.
Jamie Squire/Getty Images Sport/Getty Images
Simone Biles won a bronze medal for her balance beam performance at the Summer 2021 Olympics event final on Tuesday, Aug. 3, and she didn't hold back about how much this means to her. Simone Biles' quotes about winning bronze for beam at the Tokyo event final highlight her epic comeback. The Olympian got real about why it's so much "sweeter" than her many gold medals.
Biles opened up about the significance of taking home bronze. "This one is definitely sweeter. I'll treasure this one a lot more after everything I have been through," she said, per Reuters. Biles made a highly-anticipated return to the competition floor on Tuesday after pulling out of the team competition and three individual events in order to prioritize her mental health. For her balance beam performance, Biles chose to skip the twists during her double-pike dismount and had some less-than-perfect moments while performing, per the The New York Times, but her execution was still on point enough to earn her a medal. Biles beamed from ear to ear as she finished with a score of 14.0 and a bronze medal behind China's Guan Chenchen and Tang Xijing, who won gold and silver, respectively.
Biles is no stranger to taking home gold at the Summer Games — she won four gold medals and a bronze at the 2016 Olympics in Rio — but she was quick to share why this bronze is so meaningful. "It means more than all of the golds because I've pushed through so much the last five years and the last week while I've even been here," Biles told Hoda Kotb on Today, following her medal-winning performance. Going into the final, the GOAT didn't even have a medal on her mind. "I didn't really care about the outcome," Biles said. "I was so happy that I made the routine and then I got to compete one more time."
The 24-year-old also told Reuters she was "proud" of herself for making a comeback in her final Tokyo Olympics event, after pulling out from several events to focus on her mental health and deal with the twisties. "I wasn't expecting to medal," Biles explained, according to The New York Times. "To have one more opportunity to be at the Olympics meant the world to me." Finally, Biles dedicated the accomplishment to Team USA for "helping [her] and reaching out" after her mental health issues, which "meant the world" to her, per Reuters.
When asked about what she has planned for future competitions, Biles responded, "I have to process this Olympics before I think about Paris," per Reuters. "Right now I'm going to focus on myself a little bit more often rather than push stuff under the rug."
With such an epic culmination to the Tokyo Olympics, it's clear that Biles' bronze medal is one she'll keep close to her heart long past this summer.