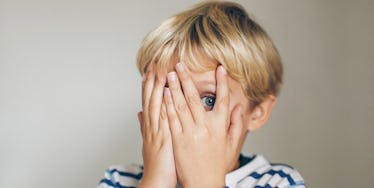 4-Year-Olds Must Now Take Sex Ed In The UK And The Reasons Why Are Surprisingly Good
Kelly Knox
In awesome growth and progress news, the UK just announced that in 2019, sexual education will be compulsory for every English school and the reasoning is beyond amazing.
An amendment to the Children's Work and Social Bill is requiring children as young as 4 years old to first begin education on healthy relationships, something that is glaringly absent from American curriculums.
As the students age, they will then be introduced to sexual education to supplement their relationship studies in an effort to teach them how to stay safe and smart in an ever-increasing online world.
I don't know about you, but in my sixth grade sex ed, I was handed a stick of deodorant and told my only options were condoms or get pregnant and become riddled with STDs, receiving little-to-no further clarification.
But learning about healthy relationships, safe spaces, sexual understanding and how to engage with other kids my age going through the same changes as me sounds A LOT more beneficial.
Gov.uk explained that relationships education, or RSE is, "designed to ensure pupils are taught the knowledge and life skills they will need to stay safe and develop healthy and supportive relationships, particularly dealing with the challenges of growing up in an online world."
This includes things like sexting, pornography and cyber bullying.
Additionally, the amendment grants schools flexibility on how to best teach these subjects, so they can create an approach that is specifically suited for the needs of their local communities or in accordance with their faith (For example, faith-based schools.)
"RSE and PSHE [personal, social, health and economic education] teach children and young people how to stay safe and healthy, and how to negotiate some of the personal and social challenges they will face growing up and as adults," said Justin Greening, Education Secretary.
"These subjects form part of the building blocks young people need to thrive in modern Britain. At the moment, too many young people feel they don't have the RSE they need to stay safe and navigate becoming an adult."
And co-director of the End Violence Against Women Coalition, Sarah Green commented on what kind of positive progress this means for women and LGBTQ equality.
"This is a real step forward in ending violence against women and girls and we commend the government for listening to experts and responding," said Green. "It opens the door to high-quality RSE that will let young people have the essential conversations about consent, respect and LGBT equality."
"Quality RSE is a chance to talk with young people about how men and women treat each other, and to challenge the attitudes which minimize or make excuses for abuse of women and girls," she continued. "It is a chance to emphasize such violence is always unacceptable, whether on our streets or in our schools."
Hey America, u up?
The RSE regulations and statutory guidance will be undergoing full public consultation later this year, and the new programs can be expected to roll out as early as September 2019.