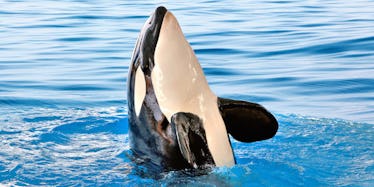 SeaWorld Plans To Get Rid Of Its Killer Whale Shows In San Diego By 2017
Shutterstock
SeaWorld will reportedly be phasing out killer whale shows at one of its parks in exchange for more animal-friendly entertainment.
According to The San Diego Union-Tribune, earlier today SeaWorld Parks & Entertainment announced its trademark killer whale shows will gradually come to an end at its San Diego park beginning next year.
Replacing these shows in 2017 will be what the announcement called an "informative" orca attraction that sends a "conservation message inspiring people to act."
These shows will also be set in more natural environments as part of a new strategy outlined by SeaWorld CEO Joel Manby.
In a talk with investors this afternoon, Manby said,
We're not limited to any one animal, to any one show, to any one attraction. We are listening to our guests, we're evolving as a company, we're always changing.
In reference to SeaWorld's 22 million annual customers, Manby said the park must concentrate on "touching their heart[s] so we can teach their mind[s]."
It is not clear if the new shows will eventually be featured at SeaWorld's other locations in San Antonio and Orlando.
The announcement comes weeks after the California Coastal Commission ruled SeaWorld can no longer breed orcas in captivity if it wants to double the size of its orca tanks as planned, The Guardian reports.
SeaWorld stated it will fight this ruling, which would have threatened the existence of its current killer whale shows.
California Representative Adam Schiff reportedly intends to propose legislation that would ban orcas from being imported, exported, captured and bred.
On Friday, Schiff reportedly said,
The evidence is very strong that the psychological and physical harm done to these magnificent animals far outweighs any benefits reaped from their display. We cannot be responsible stewards of our natural environment and propagate messages about the importance of animal welfare when our behaviors do not reflect our principles.
Attendance significantly declined at SeaWorld after the 2013 documentary "Blackfish" exposed the park's alleged mistreatment of killer whales.
Discounts and promotional campaigns were established to make up for the losses, but SeaWorld shares are currently half of their value in 2013, and revenue from per-capita admissions decreased by 2.1 percent throughout the first nine months of this year, according to USA Today.
Manby added SeaWorld will additionally build a shark-themed roller coaster and possibly a hotel at its Orlando park.
Citations: SeaWorld to phase out killer whale show (The San Diego Union-Tribune), SeaWorld to end killer-whale shows in San Diego (USA Today), SeaWorld to end killer whale shows in wake of mounting protests (The Guardian)