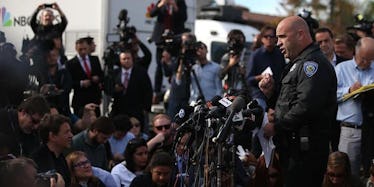 San Bernardino Shooter Received Deposit Of Over $28K Just Before Attack
Getty Images
The bank account of one of the San Bernardino shooters received a deposit of $28,500 just weeks before the attack took place.
A source close to the investigation of the attack reportedly told FOX News this deposit went to a WebBank.com account belonging to Syed Farook, who killed 14 and injured 21 Wednesday with the help of his wife, Tashfeen Malik, on or close to November 18.
Farook worked as an environmental health inspector for San Bernardino County, earning $53,000 a year.
It isn't clear where this $28,500 came from, but investigators said it may have been a loan Farook took out.
The shooter withdrew $10,000 in cash from a Union Bank branch in San Bernardino on or close to November 20.
Investigators believe the purpose of this withdrawal may have been to pay back Enrique Marquez, the person who bought the two AR-15 rifles Farook and Malik used in the attack during the holiday luncheon at Inland Regional Center.
Both firearms were legally purchased, but Marquez may still be charged, possibly for adding illegal modifications to the weapons.
The handguns used in the attack are said to have been legally purchased by the shooters themselves.
Marquez, who checked himself into a mental institution shortly after the attack, is complying with the investigation, according to Daily Mail.
John D'Angelo, assistant special agent in charge with the Bureau of Alcohol, Tobacco, Firearms and Explosives told reporters Monday,
Right now our major concern at the FBI, the ATF, and the Joint Terrorism Task Force is determining how those firearms, the rifles in particular, got from Marquez to Farook and to Malik.
Just days before the attack, Farook made three transfers of $5,000, seeming to have gone to Farook's mother, investigators said.
Attorneys representing the Farook family reportedly said in a press conference on Friday there is no evidence Farook's mother, who lived in the same house as Farook, Malik, and their 6-month-old daughter, knew of her son and daughter-in-law's murderous intentions.
Investigators found the Redlands, California home to be stocked with a dozen pipe bombs and more than 4,500 rounds of ammunition.
Pipe bombs were planted at the scene of the attack in an attempt to kill first responders, but the bombs did not detonate, the FBI revealed, due to either a malfunction of their remote control or the water raining down from the building's sprinklers.
Citations: Bank records show $28,500 deposit to Syed Farook's account two weeks before the shooting, source says (FOX News), California terrorists got a $28k payment two weeks before attack - suspicious transfer revealed as FBI says couple had been radicalized for 'some time' and had rigged building to blow after massacre (Daily Mail)