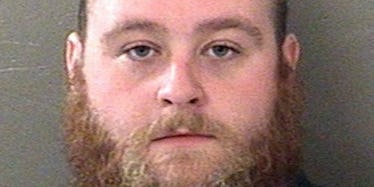 Girl Catches Roommate Having Sex With Dog Named 'Baby Girl' Through Hole In Door
Police
Bradley Hubbard, 23, kept a deranged secret from the public for quite a long time.
The sick-minded Florida man has been accused of having sex with his pit bull, Baby Girl, over 100 times over the past three years. The incidents occurred inside his home.
The only other person who knew about the bestiality happening behind closed doors was his roommate.
According to WCHS, she was aware of the abuse for years. But she did not report him because she "did not want to get Hubbard in trouble."
However, she changed her mind on December 28, after Hubbard brought Baby Girl into his bedroom and locked the door behind him.
The highly-disturbed roommate told authorities she heard Hubbard moaning as the bed made loud noises. It's also been reported the dog could be heard crying and whimpering during his sexual assault.
After falling witness to Hubbard's sexual encounter with Baby Girl and watching him through a hole in the bedroom door, the roommate called the Escambia County Sheriff's Office to report the abuse.
Apparently, Hubbard was charged with sexual conduct with an animal and causing death, pain or suffering to an animal. He is being held at Escambia County Jail.
It's been reported by the Pensacola News Journal that Hubbard lived with his father, his father's girlfriend and his roommate while he abused the dog.
When Hubbard's father was notified about the accusations, he became defensive.
His dad was allegedly upset Baby Girl had been taken from the home and argued she had had her vaccinations. He also said the roommate who called the police on his son was "crazy."
Although he claimed the accusations against his son were not true, tests done by a local veterinarian hospital beg to differ.
After being removed from Hubbard's home, Baby Girl was tested with a rape kit. Her genitals showed injuries and signs of abuse, confirming the roommate's claims.
Hubbard is now being held with a $15,000 bond, and is set to appear in court on February 2.