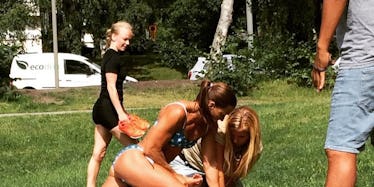 Guy Tries To Rob A Police Officer While She Tanned, Regrets It Immediately
Instagram
It's not every day a police officer takes down a suspect while wearing a bikini.
Swedish police officer Mikaela Kellner was tanning with her buddies when they were reportedly the targets of a robbery after a man tried to steal their phones. He, however, wasn't able to make a clean getaway following the bold attempt.
The unsuspecting off-duty officer was basking in the sun, getting her tan on at the Rålambshov park in Stockholm when she and her friends were approached by a man selling magazines.
Once Kellner and her friends politely declined his offer, they noticed one of their phones was missing.
That's when Kellner sprung up and chased after the thief. She told The Local,
There was no time, so I ran after him, maybe 15 meters or so. One of my friends is also a police officer, so we got hold of him.
And then it happened -- Kellner's friend snapped an EPIC photo of her pinning the thief to the ground. In a star-spangled bikini.
Shortly after Kellner's brave stunt stopped the man in his tracks, the heroic story took over Sweden. After all, it isn't every day you witness a bikini-clad cop saving the day.
Awesome stuff, isn't it?
So, how exactly did this sneaky thief *attempt* to steal the phones? BuzzFeed reports that the guy placed the magazines down near the tanning police officers, which covered their phones. After the officers politely declined to purchase the magazines, he walked off with their devices.
But at least Kellner was able to save the day and get an epic Instagram photo out of the whole ordeal.
Kellner has been a police officer for over 11 years, as well as a CrossFit trainer and fitness coach. She's never arrested anyone while wearing a bikini before -- until now!
Citations: A Thief In Sweden Allegedly Tried To Steal From Sunbathing Women Who Turned Out To Be Off-Duty Cops (BuzzFeed)