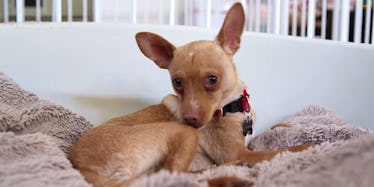 This Amazing Retirement Home For Dogs And Cats Will Warm Your Heart (Video)
House With A Heart is a place where senior dogs and cats can live when they're rescued or their owners can't keep them anymore.
The home, located in Gaithersburg, Maryland, is run by director Sher Polvinale with the help of volunteers and donations.
In National Geographic's video of the pet sanctuary, it is clear Polvinale dotes on all the animals by giving them the love and care they need and ensuring they enjoy their stays in what is likely their last home.
In fact, Polvinale is so dedicated to this organization, she only leaves the house about four times a year in order to spend as much time as possible with the animals.
The video's description reads,
Nearly two-dozen dogs are spending their golden years at House with a Heart Senior Pet Sanctuary. Sher Polvinale and a team of volunteers at this Gaithersburg, Maryland home spare no expense and care for the dogs' every need — from washing and feeding to medications and vet visits.
You can donate to this amazing cause through the pet sanctuary's website or iGive.
Citations: A Heartwarming Look Inside A Volunteer Run Retirement Home For Dogs And Cats (Laughing Squid)