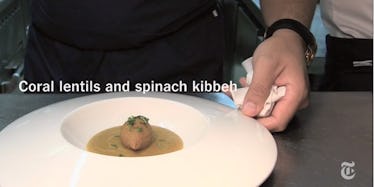 These Refugee Chefs Are Hosting A Food Festival And It Looks Amazing
New York Times
Paris is a city known for food, so it stands to reason that they have some few food festivals.
But this one stood out.
Last month, Paris hosted their first-ever Refugee Food Festival. Nine restaurants across the city had a refugee chef working and showing off his or her food for guests.
The refugee chefs included people from Syria, Iran, India, Ethiopia, Sri Lanka and Chechnya, according to the New York Times.
These chefs were all trained professionals in their home countries and were granted asylum in France.
The festival was put on with help from Les Cuistots Migrateurs (The Migratory Cooks), an organization created by two French entrepreneurs, Louis Jacquot and Sébastien Prunier, both 29.
The Frenchmen wanted to showcase a new narrative for refugees. In France, refugees are often seen as potential threats to safety and employment who need to be taken care of. But this festival shows that they have something beautiful and delicious to offer to French society.
The chefs made traditional dishes with French twists for the festival, including quail with freekeh, pirachkichs and zucchini stuffed with beef with fresh yogurt (which I want to eat immediately).
One festival attendee summed up the success of the festival well in a video by the New York Times. She said,
It gives a very different look on refugees, who are usually shown through the sadness of their experience, not their skills. They are people like us after all, who have stories to tell and a lot to share.
It was a success for the chefs as well, who got to return to their work and provide something for the French people. Chef Mohammad El Khaldy told the New York Times,
I am so happy today. I need to say for the French people, hello, we are here. We have a good knowledge, culture, good food. We can do something.
Can't argue with that, especially when it's paired with food that looks so delicious.
Citations: New York Times