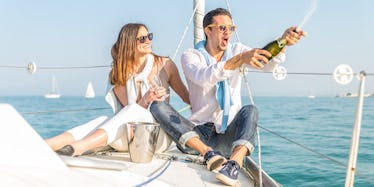 Your Weekly Bottomless Brunch Is Causing A Worldwide Prosecco Shortage
Shutterstock
Congratulations, brunchers! Your bouginess is finally having worldwide repercussions.
The Huffington Post reports a 34 percent growth in Prosecco sales over the past year in Britain alone. This number leaves America's bub-session (haha LOL right???) out of the equation entirely, and yet still poses a threat to the Prosecco-swilling masses.
Just as Champagne is regionally limited to a certain part of France (the Champagne region, huh-durr), Prosecco can only be produced in a small part of Italy.
Sadly, those of us whose thirst drives up the worldwide demand for tangy mimosas don't give one single, giant, runny Chipotle sh*t about the finite supply of regionally specific bubbly.
Toby Magill, head of retail insight group IRI's beer, wine and spirits division told the Telegraph,
Demand is growing everywhere in the world so there's a limit on what retailers can get their hands on.
Does this mean the price of Prosecco will surge as a result? The Telegraph's wine writer, Victoria Moore, suggested drinkers can expect a decline in quality and, indeed, an increase in price.
Moore advised,
Quality has fallen and many of the cheap supermarket Proseccos that used to be so refreshing just don't taste as good as they used to… The wines have [gotten] more expensive, too, so you pay more and get less.
It's time to strap on your Marc Jacobs sandal clogs, march on over to your favorite outdoor café and develop a taste for tomato juice and Tito's because, like it or not, you're a Bloody Mary bruncher now.
Citations: There's A Worldwide Prosecco Shortage, This Is Not A Drill (Huffington Post)