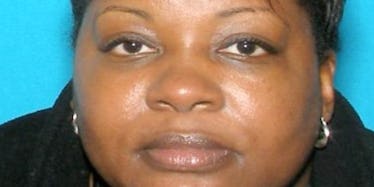 Mom Has Sex With Daughter's 13-Year-Old Boyfriend, Only Gets Probation
Smyrna Police Department
A 46-year-old mother from Dover, Delaware – Elaine B. Goodman – has just been placed on probation after having sex with her daughter's 13-year-old boyfriend.
Goodman appeared in Kent County Superior Court on Thursday. The judge sentenced her to two years of probation after she plead guilty to fourth-degree rape.
Goodman initially faced up to 15 years behind bars for raping the 13-year-old boy.
However, Judge Robert B. Young went easy on the mother, saying this was "an aberration." He added Goodman had shown compassion by caring for her elderly parents.
According to Young,
This came out of the blue. The crime is egregious and affected the victim and his family, which was taken into account. But incarceration is not the answer.
Goodman's lawyer, James E. Liguori, defended his client. He said "there is goodness in this woman," and that she acknowledged her actions were wrong.
Liguori also added,
I just know she is truly, truly hurt to the core by how much she hurt so many people. Everyone is trying to move forward and by admitting her guilt, we can do so.
However, Deputy Attorney General Denise Weeks-Tappan had a different opinion of the defendant, and stated the mother knew exactly what she was doing when she engaged in inappropriate sexual behavior with the victim.
According to Weeks-Tappan,
This mom, who he trusted, instructed him on what to do. The crime has affected the victim in many ways. He's hurt, embarrassed and it is affecting his schooling. When the defendant committed this crime, she took something away from him. He was not a willing participant, but a victim.
During the hearing, Goodman apologized for her actions. She sobbed as she told the judge,
I know sorry is just a word, but I really am. I know I hurt people and that is terrible.
Court records reveal the incident occurred on March 15, when Goodman arranged to meet her daughter's boyfriend in the early hours of the morning, after he sneaked out of his house.
Goodman drove around with the boy for some time. Then, she parked the car.
The two sat in the backseat, where they talked and engaged in sexual acts until 4:30 am.
Goodman then dropped the boy off at his house and went home to get ready for work.
According to court documents, the boy was interviewed at Children's Advocacy Center in November 2015.
He claimed Goodman kissed him, undressed him and "took his you-know-what and put it in her you-know-what."
Police conducted an investigation following the incident, where they collected DNA evidence and data from cell phones.
During the investigation, the police found incriminating text messages between Goodman and the 13-year-old victim, as well as a message Goodman sent her friend about the rape that stated,
He is so cute with a nice ass body. I asked him what in the world are u doing with a body like that at 13...
Goodman was arrested by Smyrna police and charged in November 2015.
In addition to probation, Goodman has also been ordered to go to sexual disorders counseling and register as a sex offender.
Citations: Dover woman gets probation for rape of 13-year-old (Delaware Online)