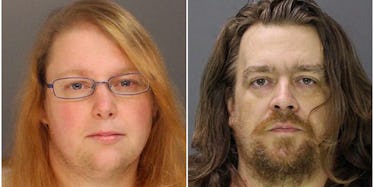 Mom Watches As BF Rapes And Chops Up Her Daughter To Fulfill Disturbing Sexual Fantasy
Bucks County District Attorney's Office
A man lived out his sick sexual fantasy by raping a 14-year-old girl while her mom watched -- before murdering her and chopping up the body, authorities said.
Jacob Sullivan allegedly raped Grace Packer in a property in Quakertown, Pennsylvania before strangling the teenager the next day.
Her body was left in an attic for four months before Sullivan and Sara Packer, Grace's mom, dismembered the corpse, Philly.com reports.
Sullivan has been charged with kidnap, rape and murder offenses, while Sara Packer is charged with homicide and "related offenses."
It's alleged the couple planned the twisted rape and murder of Packer's adopted daughter for a year, and that Packer watched as her daughter was raped for her own sexual enjoyment.
Bucks County District Attorney Matthew D. Weintraub said Grace was the victim of the couple's "fantasy." He said,
This was a sexual fantasy that was shared between Jacob Sullivan and Sara Packer, and Grace Packer was the object of that rape-murder fantasy.
On the morning of July 8, Grace was driven from her home in Abington to Quakertown, where Sullivan raped her before feeding her pills and leaving her to suffocate in the hot attic, authorities said.
The next day, Sullivan realized Grace was still alive, and reportedly strangled her, leaving her body buried in cat litter.
Sullivan and Packer allegedly returned to the attic in October to cut up her body with a saw, and Grace's remains were found on Halloween by two hunters on a road two hours north of Philadelphia.
Sullivan admitted he and his girlfriend were behind Grace's murder while in the hospital after a failed suicide attempt.
Packer continued to collect social security checks after her daughter's death, cashing in $712 each month.
Weintraub said,
After they murdered her, they maintained the pretense of Grace being alive so that they could continue to profit off of her existence.
Instead, she told officers her daughter ran away from home, sparking a police campaign to find the teenage girl they believed was missing.
Citations: An arrest and allegations of a rape-murder fantasy in Abington teen's dismemberment (Philly.com)