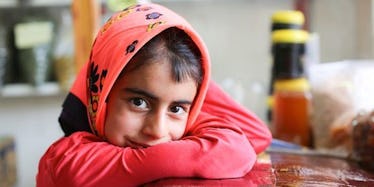 President Obama Leaves Heartfelt Comment On 'Humans Of New York' Post
Brandon Stanton, the photographer behind Humans of New York, is currently in Iran and recently posted a status about his travels to Facebook.
My last stop this summer is Iran. Iran holds a special place in my heart because it was the first international trip... Posted by Humans of New York on Wednesday, August 19, 2015
Through his photographs, Stanton offers millions of people a glimpse into the minds of New Yorkers. In the process, he helps reveal the dynamic and complex nature of humanity, with all its beauty and struggles.
As he travels through Iran, Stanton is also taking photographs of Iranians and posting them to the Humans of New York page. In the process, he's offering Americans a view into the lives of a people who've been constantly demonized by many in the US.
The United States and Iran have been enemies for decades, and in recent months, that's been particularly relevant with the incendiary debate over the Iran nuclear deal.
The deal, orchestrated by the Obama administration, arguably signified the president's desire to see our two nations reconcile -- or at least ease tensions significantly.
This is precisely why it's significant President Obama just left a heartfelt comment on a Humans of New York post featuring a photo of a father and son in Tabriz, Iran.
Here's the photo Humans of New York posted.
"Today's his tenth birthday. He's a very emotional young man. He likes to solve other people's problems. One time... Posted by Humans of New York on Thursday, September 3, 2015
And below is President Obama's comment on the photo.
In leaving this comment, the president signified, regardless of whether or not the United States and Iran are on good terms diplomatically, all people share a common humanity.
When it comes down to it, we all just want to live happy and peaceful lives.
Citations: Coordinated Strategy Brings Obama Victory on Iran Nuclear Deal (The New York Times), President Obama left a pretty personal Facebook comment on this Humans of New York photo from Iran (Vox)