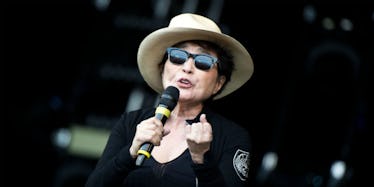 Yoko Ono Screaming About Trump Winning Election Is All Of Us Right Now
REX/Shutterstock
Your parents remember where they were when JFK was assassinated.
We remember where we were when 9/11 happened.
Now, I'm afraid, we will remember the exact moment when Donald Trump won the election to become our 45th president.
I can't quite remember what was running through my mind at the moment. I was in one of my favorite bars with some of my favorite people so by the point I realized he was winning I was in the process of getting black out drunk.
I do imagine my inner monologue sounded exactly like this message from Yoko Ono.
The artist and activist shared this 19-second long video with her followers on Twitter on Friday.
This primal scream is literally all of us when we realized: "Oh, holy shit. Trump is going to be president."
I wish I could put into words what Ono shared with us... but... I'm left speechless, just as she was.
Yoko Ono has always been heavily involved in political activism. Once, in the '60s (what a time to be alive,) Ono sat with John Lennon and held a "bed-in for peace."
It was there they hoped to promote world peace from their bedroom.
Promote peace from their bedroom? The only thing I've done in my bedroom is disappoint lovers.
But maybe Yoko Ono is on to something?
Maybe scream therapy will help us through this dark time?
Yoko, keep being beautifully bizarre.
It is my belief that Yoko Ono was a victim of sexism and racism.
She was often blamed for the breakup of the the Beatles by the press as they said she had a large influence over John Lennon and his music.
She is still considered a "female interloper" in mainstream media without reason.
Truthfully, it's humorous that this type of trope still exists today.
From Jessica Simpson being called "Yoko Romo" when Dallas Cowboys quarterback Tony Romo performed poorly to Zayn Malik leaving One Direction allegedly because of Perrie Edwards, his then fiancée.
Why are men's weaknesses and faults blamed on women?