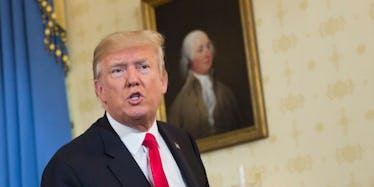 The Worst Part About Trump's Ban On Trans People In The Military Is That He Can Do It
Chris Kleponis - Pool/Getty Images
On Wednesday, July 26, President Donald Trump tweeted he's banning trans people from serving in the military. Trump, who received five draft deferments during the Vietnam War (including one for bad feet), apparently feels he has the right to deny certain groups the opportunity to serve their country. Sadly, there do not appear to be any laws that would prevent Trump from doing this.
For years, trans people were banned from military service. But, in June 2016, under the Obama administration, the Pentagon reversed its policy on this.
In the past, Trump claimed he'd be a friend to the LGBTQ+ community. Clearly, he's either changed his mind, or wasn't being entirely honest.
The president claimed his decision to ban trans people from military service was linked to "tremendous medical costs and disruption."
When the Pentagon decided to lift the ban on trans military service in 2016, it said it would provide hormone therapy for current members of the military, according to CNN.
It also said incoming service members would need to be "stable" in their gender identity for at least 18 months before joining the military.
There are conflicting reports on the total number of trans people currently serving in the military, but some place it as high as 15,000.
The United States has the highest defense budget in the world -- roughly $600 billion -- and the Pentagon routinely wastes money.
For example, it was recently reported the Pentagon blew $28 million on uniforms for Afghan soldiers that were the incorrect camouflage pattern for the region.
Given all this, it's difficult to believe Trump's decision is motivated by "medical costs," as the U.S. military arguably has more than enough money to deal with essentially any issue.
This isn't the first time Trump has attacked trans rights.
In February, Trump withdrew federal protections for trans students to use bathrooms at public schools that align with their gender identity.
With this move banning trans military service, Trump is arguably setting an extremely regressive and unnecessary trend.