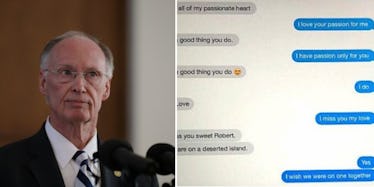 Turns Out Wife Of Cheating Governor Had Been Plotting Her Revenge For Years
REUTERS/Twitter
In the aftermath of former Alabama Governor Robert Bentley's resignation earlier this week, we're beginning to learn the role his ex-wife, Dianne Bentley, played in his downfall.
Robert resigned after a salaciously damning report revealed an alleged long-term affair between him and his former senior political adviser, Rebekah Mason.
He reportedly violated a number of campaign finance and state ethics laws while pursuing his extramarital relationship with Mason.
If you're wondering how the Alabama House Ethics Committee managed to obtain all of their evidence of the former governor's affair, then it's high time you learned a bit more about his ex-wife, Dianne.
The former first lady of Alabama initially suspected something was wrong in her marriage way back in 2013, when she noticed Mason was regularly texting the governor off-hours about non-work-related matters.
However, Dianne didn't find her smoking gun until February 2014.
As she sat at a dinner table with both Robert and his mistress during the National Governor's Association in Washington DC, Dianne noticed her husband had sent an extremely flirtatious text to Mason:
I can't take my eyes off of you.
How Dianne managed to swallow the pain of officially realizing, in public, that her husband was cheating on her with his adviser, I'll never understand.
Robert continued to be horrendously bad at covering up his affair with Mason. In the spring of 2014, he accidentally texted his wife saying, "I love you, Rebekah."
But his worst mistake, by far, had to be when the former governor gave Dianne his state-issued iPad.
Apparently, the 74-year-old was utterly oblivious to the fact that the device was synced with his state-issued iPhone, and any texts sent from the phone would also be accessible on the iPad.
The texts revealed, um, lots of passion...
... and lots of love...
... and talks of running away together.
Yikes.
As if that wasn't all damning enough, Dianne also managed to obtain audio evidence of her ex-husband's affair.
According to the impeachment report, in March 2014, she turned on her phone's recorder, dropped it into her purse and told her then-husband she was going for a "long walk on the beach."
After she left the handbag behind, the audio captured Robert and Mason chatting on the phone about Mason's breasts within just one minute of Dianne's absence.
Though Dianne filed for divorce in 2015, she didn't hand over the evidence to the ethics committee until 2016.
While the texts and audio certainly damaged Robert's reputation, his desperate and sketchy attempts to cover up the affair ultimately sealed his fate.
According to the report, he used his bodyguard and law enforcement to intimidate people who knew about the affair into silence.
Plus, the Alabama attorney general's office said Robert had failed to disclose a $50,000 personal loan to his campaign account, and he apparently allowed nearly $9,000 of campaign money to be used for Mason's lawyers.
The former governor of Alabama officially resigned on Monday, April 10, and pleaded guilty to two misdemeanor charges.
He's since said he will never run for or occupy public office again.
Citations: Dianne Bentley saved receipts, helped take down her cheating governor husband (Mic), THE IMPEACHMENT INVESTIGATION OF GOVERNOR ROBERT BENTLEY (HOUSE JUDICIARY COMMITTEE), PLEA AGREEMENT (The District Court For The Fifteenth Judicial Circuit Montgomery County, Alabama), Robert Bentley, Alabama Governor, Resigns Amid Scandal (The New York Times)