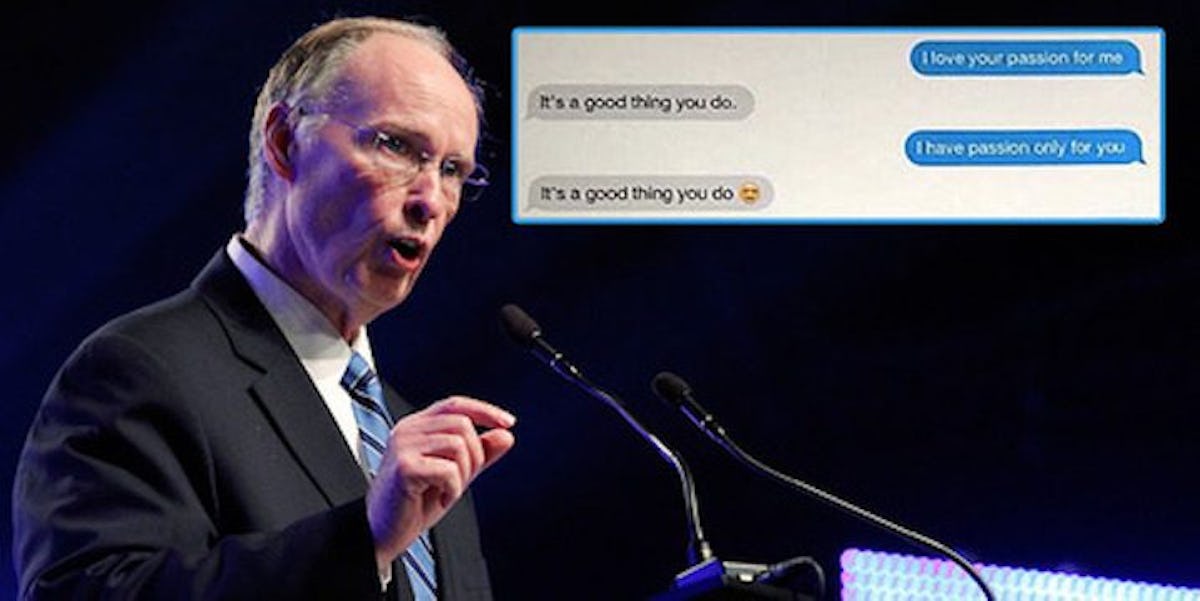 Governor Caught Cheating After Wife Finds Gross Sexts He Sent To Colleague
REUTERS/AL.com
Update Tuesday 11:35 am EST:
Alabama Governor Robert Bentley resigned on Monday and said he would never seek public office again, CNN reports.
Alabama Governor Robert Bentley is having a major case of the Mondays.
He's facing impeachment and is expected to resign by Wednesday after a damning report, which included sexts between him and a former staffer he had an alleged affair with, was released on Friday.
Bentley's apparent affair with former senior political adviser Rebekah Mason was exposed in 2016, just a few months after his wife of 50 years found out and filed for divorce.
The Republican governor reportedly did some very sketchy things in an effort to cover-up the affair and save his political career.
According to the report released on Friday, for example, he used his bodyguard and law enforcement to intimidate people who knew about the affair.
Bentley, who earned the nickname of the "Luv Guv" in relation to the scandal, allegedly asked his bodyguard to breakup with Mason for him on more than one occasion.
Long story short, the report claims the governor used state resources and neglected his duties to protect his image, which is why he's facing impeachment and will likely step down this week.
The sexually charged texts were turned over to the lawyer compiling the report by none other than Bentley's ex-wife.
As noted above, the report included text messages between Governor Bentley and Mason.
Bentley, who is 74, is apparently really bad with technology.
According to the report,
Ms. Bentley was able to read text messages sent by her husband to Mason because he had given Ms. Bentley his state-issued iPad, not understanding that it shared the same 'cloud' as his state-issued iPhone and granted equal access to all message functions. It was through such text messages that other members of the Bentley family first learned of the affair.
It almost sounds like he wanted to get caught.
On another occasion, the governor accidentally sent his wife, Dianne, a text message that said, "I love you Rebekah."
The text, clearly meant for Mason, also featured a red-rose emoji. How romantic.
This mistakenly sent text was just a sample of how cringeworthy his communications with Mason got.
AL.com shared the texts with the world.
Their text conversations sound like something straight out of a Nicholas Sparks book, which isn't a compliment.
"Come away with me."
"Hey sweet baby."
"I'm ready. Sweet thing."
"It's time for bed... Come get me."
Citations: AL.com