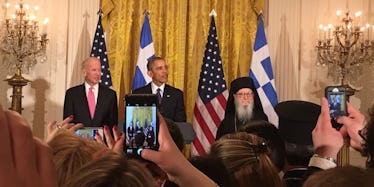 I Went To A Party At The White House, And This Is What Happened
My dad and I had a One Direction fangirl-level meltdown at the White House on Monday.
President Barack Obama was walking past a crowd to get back to the private residence rooms when he stopped to pick up a baby (classic Barack).
Then, Obama turned around and started shaking hands. My dad and I leaned in and stuck out our hands, squeaking out a "thank you!"
Obama left and we skipped away, giggling and high-fiving, to call my mother and scream about what just happened.
A handshake from Barack Obama turned both of us fully functioning adults into complete mush.
My dad and I casually spent the day in the Executive Residence of the White House to celebrate Greek Independence Day (in case you couldn't tell from my name -- yeah, we're Greek). The White House has held this celebration for 30 years.
Getting an invite to this jam is funny. Last year, my dad got an email invitation on April 1, so, naturally, my family thought someone was pulling a prank on him. But it turned out someone he knew from his humanitarian work for the US Greek Orthodox Church and The Hellenic Initiative, an organization working to help Greece's economy and young entrepreneurs, hooked him up with an invite.
My parents went last year and sent my sisters and me a ton of goofy selfies and creepy pictures of John Stamos. This year, it was my turn to go.
We waited outside a gate at the White House along with a bunch of other Greeks; there were about 400 in attendance. The mother and daughter behind us on line were confused about how they got invited. The mom insisted it was because she voted for the residents of Lesbos to get a Nobel Peace Prize for helping refugees. The daughter rolled her eyes.
One woman brought her young son in a full, traditional Greek military outfit, making the crowd go, "Aww." The dress code was "business," and I wore a cocktail dress with a blazer, black tights and booties. The outfit felt a little more Malia than "business," but at least I wasn't wearing my old, traditional Greek dance outfit (no pictures, don't ask).
The gates opened, and we went through security into the Executive Residence, where we had free rein to wander around the State Floor.
You can all guess what happened next: The State Floor turned into Selfie City.
Everyone took turns posing on the beautiful couches and underneath portraits of past presidents for pictures. Everywhere you looked, someone was posting a picture to Facebook. It was marvelous.
There were open bars in the various rooms, so I sipped on some Champagne as I Snapchatted through. The two big rooms on either end of the wing had long tables of Greek food, including moussaka, dolmades, figs and absolutely delicious baklava. The food was good, but I'd be lying if I said my aunt's spanakopita wasn't better. Sorry not sorry, White House.
We strolled through the Red Room, Blue Room and Green Room. A military band played a mix of American and Greek tunes. Members of the military were stationed in the rooms and could tell you fun facts about the house.
My dad made a dad joke to a serviceman that I was going to steal an ashtray. As I waited for Secret Service to kick me out, the serviceman just laughed. All the servicemen were game to chat and joke around and really wanted to eat the Greek food.
We learned when all the doors in the wing are open, a portrait of Dolly Madison "looks" at the portrait of George Washington she saved when the house was set on fire by the British in 1814.
Then, the guards kicked everyone out of the color rooms so the president and vice president could walk through and give an address in the East Room.
We stood around waiting for a while in front of a podium flanked by American and Greek flags. It was seriously just like being in general admission at a concert, waiting for the band to show up as everyone hustles to get a good view.
Probably the most fun part was nobody tried to play it cool. We were all there to gawk and take Instas and gleefully drink Barack's Champagne. I mean, we're Greek. We're not exactly known for being quiet.
Eventually, Obama, Joe Biden and Archbishop Demetrios of America came out and gave short speeches. To get serious for a minute, it was a weird day to have this event. That morning, boats began shipping refugees from the islands of Lesbos and Chios back to Turkey as part of a European Union deal.
While Obama mentioned how Greeks have helped the refugees in his remarks, it clearly wasn't a focus for anyone's speech; the speeches mainly stayed light. It's kind of like how the economic crisis got a vague voiceover mention in "My Big Fat Greek Wedding 2" but was otherwise ignored.
When the speeches ended, a path was cleared for Obama and Biden to get out, which is when my dad and I got to shake Obama's hand.
We hung out for a little longer and got a peek at Sunny and Bo when they snuck through the kitchen.
Sunny and Bo creeping out of the kitchen pic.twitter.com/t2j9Ud53zu — Alexandra Svokos (@asvokos) April 4, 2016
The event came to a close, and we left the White House. Overall, a party at the White House is like a non-member party at a college secret society: Everyone's there for the novelty of it and to take enough pictures to prove he or she went.
It was a super cool experience I'm very happy to have been able to have, especially since I got to spend a day goofing around with my dad -- and meeting Sasha and Malia's dad wasn't half bad, either.