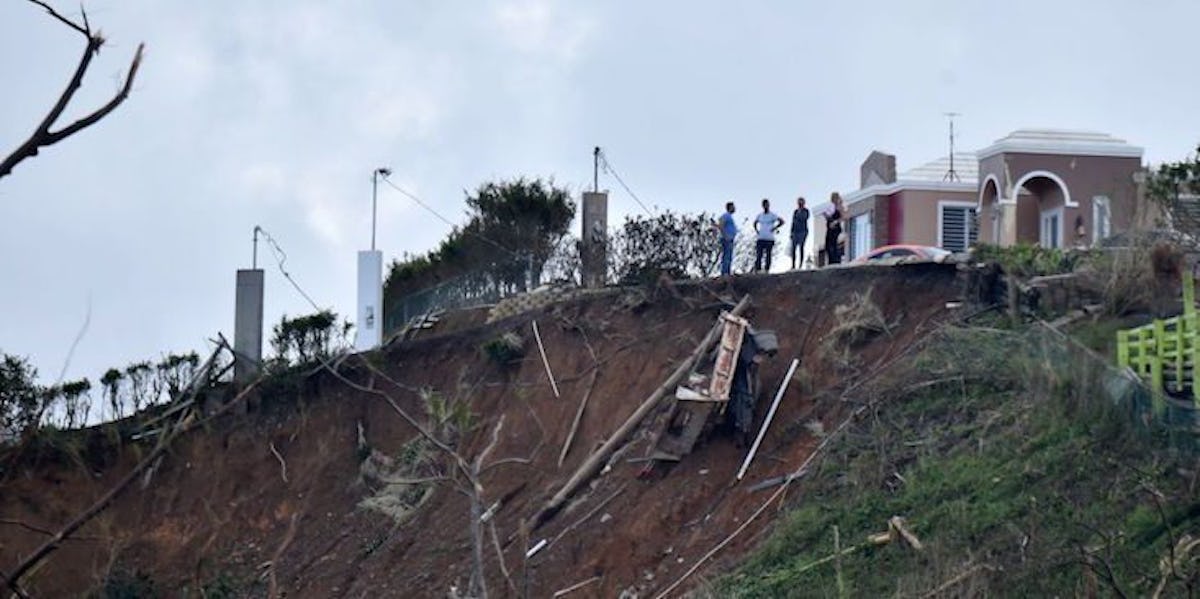 Here's What Congress Can Do To Help Puerto Rico Rebuild After Hurricane Maria
Hector Retamal / Getty Images
For days, Puerto Rico and its Caribbean neighbors endured one of the worst hurricanes in recent memory. While many people are motivated to donate personally, many are also asking how Congress can help Puerto Rico recover in this time of need. In the week after the storm's landfall, Hurricane Maria continues to wind its way through the Atlantic. People worldwide are seeing firsthand the devastation it's already caused, and many are calling on President Donald Trump, his administration, and Congress to assist.
After mounting public pressure to prioritize Puerto Rico, Trump has announced he'll be visiting the island next week, as he did for Florida and Texas following Hurricanes Irma and Harvey, respectively.
On Monday, the Washington Post reports, Governor Ricardo Rosselló praised the Federal Emergency Management Agency (FEMA) and its response to Maria, delivering much-needed supplies to the island. According to CNN, FEMA currently has $5.03 billion in disaster funds available, with another $6.7 billion coming in October when the news fiscal year begins.
But Puerto Rico's fate extends beyond shipments of meals and water to the island.
Leaders call for long-term funding bill to tackle basic rebuilding needs.
Rosselló has called on Washington to continue to fund the island in what will be a very long road to recovery, likely in the form of a long-term aid bill. Currently, FEMA is sending aid to Puerto Rico using some of the $15 billion Congress approved to help victims of the hurricanes this season. Because Puerto Ricans are U.S. citizens and a sizable chunk live on the mainland -- where they can vote in elections -- there is more pressure on the government to not shirk their responsibility to assist.
Congress is expecting Trump's official request for funding sometime in mid-October, after the administration has determined how much is needed, according to two sources that spoke to CNN. White House Press Secretary Sarah Huckabee Sanders said that the full extent of the damage -- and therefore its costs -- is still being assessed.
Multiple members of Congress have called for a long-term aid package and other measures. Senators Marco Rubio and Bill Nelson, joined by Senator Chuck Schumer, House Speaker Paul Ryan, and others, called for government funding. Rep. Jose Serrano of New York reportedly is asking for a task force to address the massive rebuilding project. Senator Kirsten Gillibrand penned an op-ed in the Times urging her colleagues to send aid.
She writes,
It is up to mainland leaders not to stint on aid for Puerto Rico and the U.S. Virgin Islands, however lacking they may be in political clout in Washington.
Loosening loan payments may help relieve economic pressures.
Puerto Rico was in dire straights economically before Hurricane Maria, and the storm only worsened the condition. In June 2016, Congress passed a debt relief bill for Puerto Rico, and the island declared bankruptcy earlier this year. According to the New York Times, some Democrats in Congress want swift action on another relief bill after Maria, and have some of the island's outstanding loan payments to the government forgiven.
In a move that some called tasteless, Trump even brought up the outstanding debt when he finally mentioned Puerto Rico on Twitter:
Action on legislation is complicated by the fact that the island's voice is limited in Washington. The U.S. Virgin Islands, also hard hit by the storm, has a representative, Stacey Plaskett, and Puerto Rico has a resident commissioner, Jenniffer Gonzalez-Colon, but neither has a vote in Congress.
House Appropriations Committee Chairman Rodney Frelinghuysen said he was committed to acting of behalf of Puerto Rico. In a statement, he expressed solidarity with the island and added,
[Puerto Ricans] should be reassured that they are entitled to equal treatment under the law and the Appropriations Committee and House leadership will assure that every step of the way.
Undoing the Jones Act is another tool Congress can use to ease pressure.
Slate and Fortune both call for Congress to address the Jones Act, which was originally passed to keep Americans savvy in the seafaring trade and prevents domestic shipping from being conducted by anything other than U.S. owned and staffed ships. So for an island like Puerto Rico, which gets the vast majority of its food imported from elsewhere, having to comply with this law is burdensome and can in some cases prove to be more expensive.
If Congress waives this act, Puerto Rico could accept ships regardless of their nationality, which may open up cheaper food source options during a difficult rebuilding period, Slate reports. This may relieve some of the pressures moving forward. Rep. Nydia Velazquez has also asked for this restriction to be waived.
Overall, Congress needs to show greater priority for Puerto Rico moving forward.
Senator Marco Rubio of Florida has been one of the most outspoken advocates to ensure that Puerto Rico is given equal treatment and has the access it needs to federal funding.
He's one of a chorus of voices that are calling for more than just a Band-Aid solution to Puerto Rico's troubles. As many have pointed out, it shouldn't have taken a devastating hurricane costing human lives to make the government realize that Puerto Rico was in trouble. Hopefully Congress will respond with appropriate actions to help their fellow citizens, who have a long road to rebuild their homes.