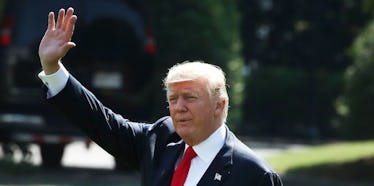 This Super Awkward Video Of Donald Trump Crashing A Wedding Is Making Us Squirm
Mark Wilson/Getty Images
Donald Trump is, supposedly not on vacation, according to his own tweets. But you couldn't tell it by the photos that are coming out from his Bedminster golf club in New Jersey. The POTUS made an appearance at a wedding held at his golf club on Aug. 5, and the video is just… well, it's really awkward.
As a real estate mogul, the president was famous for occasionally schmoozing with the weddings and parties taking place at his clubs. And apparently he's keeping up the habit, according to a video posted to social media last night.
The video seems to have been posted to Instagram by a member of the party, but appears to have since been taken down or made private.
In the video, the president, wearing golf clothes and what appears to be one of his own MAGA hats, clambers out of the driver's seat of a golf cart and ambles towards the party, including the person holding the camera.
"Where's the bride?" he calls out with a clap of his hands. "Come on!" Many in the group laugh a bit, and call out reassurances that they've gone through security. "We've been cleared!" One person yells.
"We went through a big strip search!" Another says (which I really hope is a joke).
Though the people in the video seem OK with it all, the video is still super awkward.
Watching Trump make his way towards a group of women in backless dresses inspires the kind of look-through-your fingers cringe that's usually reserved for horror movies, after allegations of sexual inappropriateness during his Miss USA/Miss Universe pageants, and even acknowledged comments which were downright boastful of sexual assault. Not to mention his belt-adjustment-into-extended arms move, which just feels a lot like someone's creepy uncle getting ready to hug you at a barbecue.
It's not the first wedding he's crashed. Back in June, he stopped in at another wedding (also at Bedminster), where he was cheered with a chant of "USA," according to CNN.
Trump greeted the wedding party the same day he tweeted that his retreat to Bedminster was "not a vacation."
He said that he would continue working from the golf resort while the White House underwent planned renovations for a heating and cooling system. The construction started as soon as he left, per CNN.
I doubt meeting the wedding party was on his official White House itinerary, but OK. Very serious business, those weddings and golf at Bedminster.