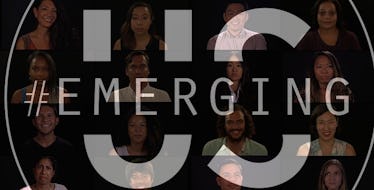 The Director Of 'White People' Explores Identity In His Latest Project
Jose Antonio Vargas is an undocumented immigrant and Pulitzer Prize-winning reporter who made the documentary "White People."
Now, he's working on a new way to explore American identity through his platform #EmergingUS.
Of the purpose of #EmergingUS, Vargas explains to Elite Daily,
We have to answer this question that we're posing to people: What is the emerging American identity? Who are we and what are we becoming?
The focus of #EmergingUS is on the changing minority status in the United States. White people have long been considered the American majority, but that's changing as the demographics shift. Now, white people are becoming the minority while other races are making up a larger percentage of the American population.
Vargas says,
From the very start, we are acknowledging that there is a new majority that is forming and that has formed, and they need new journalism to cover this new America.
#EmergingUS uses videos to tell people's stories across racial, class and cultural divides. Vargas says the videos have a "level of vulnerability" as they get into how people identify themselves and what their lives are like. There will also be an emphasis on intersectionality as one person's story doesn't symbolize just one thing.
Vargas wants to make a new type of newsroom that actually reflects the consumers and can understand what different cultures experience. He spoke about his time working at publications where editors would ask for stories about diversity or minorities, yet he was never asked the same about covering white people.
While working at The Washington Post in DC, Vargas says,
In some ways, the minority are white residents of DC proper, and yet we always referred to people of color as 'minorities.'
Vargas is trying to change that perspective with #EmergingUS. He started by making his team reflect these demographics. His lead video producer is Shauna Siggelkow, a white woman who worked on "White People," and his lead videographer is Cleon Arrey, a black man.
The audience can tell where the "minority-focused" reporting comes from, Vargas says, and can call bullsh*t when it's produced without authenticity. With his team, Vargas says, the videos come from a real place and are made with care and respect.
#EmergingUS is based in Los Angeles, so the team is involved in the #OscarsSoWhite conversation on diversity in Hollywood. But, Vargas says they're looking at all aspects of diversity -- not just a black/white divide.
He explains,
Race is treated as if it's a black and white issue. We talk about Latinos as if they're all immigrants, and we don't talk about Asians at all.
While #EmergingUS is about the people, it also hopes to be aided by the people. On Thursday, Vargas and his team launched a crowdfunding effort to raise $1 million by mid-April.
#EmergingUS wants to tell the American story how it really is now. Vargas has repeatedly seen issues explained from strictly policy-based positions, focusing on laws and politics, and he's tired of that perspective.
The project is not about taking ownership of just the majority-demographic position but also of people's own narratives within the American story.