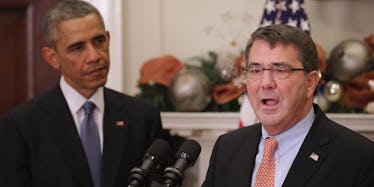 The United States Military Will Open All Combat Roles To Women
Getty Images
On Thursday, US Secretary of Defense Ashton Carter announced he's ordering the military to open all combat jobs to women, NBC News reports.
He said,
Our force of the future must continue to benefit from the best America has to offer. This includes women.
Carter is reportedly giving the military until the new year to implement these changes.
MORE: "We cannot afford to cut ourselves off from half the country's talent and skills," Defense Sec. Carter says. — NBC Nightly News (@NBCNightlyNews) December 3, 2015
This is a historic move that will fundamentally alter the makeup of America's armed forces. It also corresponds with the Pentagon's decision to lift the combat ban on women back in 2013.
The role of women in the military has long been a topic of heated discussion.
In August, two women graduated from the prestigious US Army Ranger School for the first time ever, which signified the military was adhering to the Pentagon's 2013 decision and shifting toward further integrating females into combat roles.
Around the same time as the women's graduation, a US Marine Corps study suggested mix-gendered combat units aren't as effective as all-male units. But after the study's release, US Secretary of the Navy Ray Mabus highlighted in The Washington Post,
During the study... the Marine Corps did not rely on the data for, or evaluate the performance of, individual female Marines; instead, it used only averages. Averages have no relevance to the abilities and performance of individual Marines... The few, the proud, the Marines have never been about being average; this issue is about setting high standards to keep Marines exceptional. Our shared commitment to maximizing the combat effectiveness of the corps requires us to maintain validated, high individual standards. There is no other conclusion than that everyone who meets the standards should be permitted the opportunity to serve.
Mabus, among others, fervently supports fully integrating females into the military.
US Navy Sec. Mabus: "The decision to make the military gender-neutral will maximize the combat effectiveness" of Navy and Marine Corps. — NBC Nightly News (@NBCNightlyNews) December 3, 2015
US Navy Sec. Mabus: "Gender does not define the service of a [US] Sailor or Marine ... is their character, selflessness, and abilities." — NBC Nightly News (@NBCNightlyNews) December 3, 2015
It now seems, in spite of objections from certain members and segments of the armed forces, women will not be denied the opportunity to serve in combat roles on the basis of their gender.
Citations: All Combat Roles Now Open to Women, Pentagon Says (NBC News), Carter telling military to open all combat jobs to women (AP), Pentagon says women in all combat units by 2016 (CNN), Marine Corps Study: All-Male Combat Units Performed Better Than Mixed Units (NPR), U.S. Navy secretary: Women should be among the few and the proud (The Washington Post)