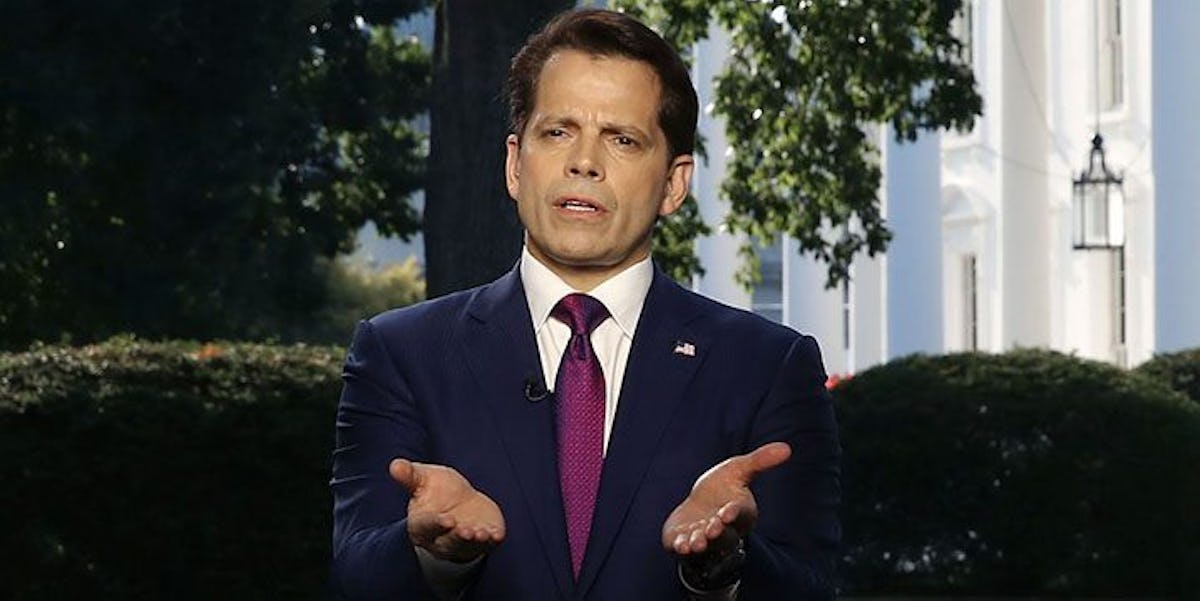 Memes & Tweets About Anthony Scaramucci's 'New Yorker' Call Show Twitter Had A Field Day
Mark Wilson/Getty Images
Another day, another White House tweet scandal. In a leaked phone call made to New Yorker reporter Ryan Lizza, newly hired White House communications director Anthony Scaramucci was upset Lizza had intel from a "senior White House official" that "The Mooch" was having dinner with the president, the first lady, Fox News' Sean Hannity, and former Fox exec Bill Shine. What happened next is nothing short of a catastrophe of inappropriate comments, and the best memes & tweets about Anthony Scaramucci's New Yorker call illustrate the shock, disgust, and pure circus act our government has become.
For a bit more background, Scaramucci called Lizza to find out who leaked the information to him. When Lizza wouldn't out his source, Scaramucci then, according to Lizza, "threatened to fire the entire White House communications staff." He told Lizza: "What I'm going to do is, I will eliminate everyone in the comms team and we'll start over." Shockingly enough, it doesn't end there. Saracmucci, who did not request, according to Lizza, any piece of the conversation be taken off the record, had a few uncomfortable, threatening, and wholly inappropriate comments for his colleagues and the people he so lovingly calls "the leakers." After guessing if the "leaker" in the instance of his own dinner with the president was an assistant to Trump, Scaramucci then promised to "fire every one of them," so that the "entire place will be fired over the next two weeks," and proceeded to refer to Reince Priebus as a "f*cking paranoid schizophrenic, a paranoiac," pointing out that he felt Priebus had "cock-blocked" him. (Elite Daily reached out Priebus, Scaramucci, and the White House for comment on the conversation and the comments, but did not hear back at the time of publication.)
As for Steve Bannon? Well, Scaramucci didn't hold back there, either, saying, "I'm not Steve Bannon, I'm not trying to suck my own cock. I'm not trying to build my own brand off the fucking strength of the President. I'm here to serve the country." Elite Daily also reached out to Bannon for comment, but did not hear back at the time of publication.
Scaramucci did issue the following tweet in response to the news:
Following the tweet, the White House responded by saying that they would have no comment beyond Saramucci's tweet.
Of course, Twitter took the story and ran with it (I mean, who wouldn't?), and what followed was just a normal Thursday afternoon in the American political sphere.
Trumpdome? Thunderdome? Same Thing, Right?
Some Had Poems
Oh. Damn.
Prettyyyy Much
OK, But Like, Same?
Others Just Couldn't Believe It
But Some Were Here For The Show
True