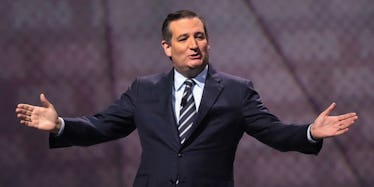 Twitter Is Freaking Out Over This Picture Of "Twins" Ted Cruz And Cubs Owner
Scott Olson/Getty Images
A single tweet from Ted Cruz had people confused on Wednesday, June 28.
No, it wasn't a message about healthcare or any other legislative issue. It was something much more simple than that.
It was a benign photo of Cruz with Chicago Cubs owner Tom Ricketts.
Ricketts posed with the Texan senator while standing behind the Cubs' 2016 World Series trophy, which is a distant second in terms of most interesting things about this picture.
The first can be summed up by a question: Oh my God, why do these do these two look so much alike!?
Simply put, the appearance of Sen. Cruz and Ricketts is freakish. Like, so freakish you do can a Snapchat face-swap and they'd both still look the same.
SEE!?
Oh, and as you might expect, Twitter users definitely had fun with the Cruz-Ricketts photo-op.
Go crazy, Twitter.
Even Cruz himself had to acknowledge what was going on.
Sen. Cruz is used to this, by the way. After all, the former presidential candidate was already used to being linked to another doppelgänger in the sports sphere, Duke University basketball star Grayson Allen.
The senator has had no problem showing a sense of humor about these things, either. Back in January, a tweet from Cruz went viral when he posted a picture of Allen as proof of him being able to play basketball.
Cruz probably won't have much time for internet jokes anytime soon, though. Right now he and other Republican senators are locked in a back-and-forth debate about -- what else? -- healthcare.
You know the deal: Democrats are playing defense while the GOP is trying to clean up a bill that pretty much everyone hates.
That's an important fact to point out, mind you, because some of you might need some form of medical attention after placing your eyes on the image below.
Now, if you'll excuse me, it's time to puke.