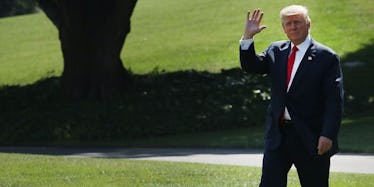 Trump's Tweets Attacking A Senator Have Everyone Calling Him Out For The Same Thing
Mark Wilson/Getty Images
When most people go on vacation, they do their best to unwind and step away from the things that stress them out. President Donald Trump is apparently not most people. Despite the fact he's on a 17-day trip, Trump attacked Senator Richard Blumenthal on Twitter on Monday, Aug. 7. So, even though he's away, the president still seems to be allowing his critics to get under his skin. But, what else is new?
Trump's attacks on Blumenthal contradict his past claims about his TV habits.
In February, Trump said, "I don't watch CNN… I don't like watching fake news." In April, Trump reiterated this claim when he said, "I don't watch CNN anymore."  Subsequently, in July, the president also claimed he doesn't has "very little time" to watch TV in a tweet (right after retweeting a Fox & Friends clip).
But Blumenthal had appeared on CNN shortly before Trump started attacking him on Twitter. People on Twitter were quick to call out the president for this in relation to his previous claims, along with the fact he claimed to be "working hard" on his vacation in a tweet. Relatedly, Trump also recently claimed his vacation wasn't, in fact, a vacation -- even though he was spotted on the golf course on Saturday, Aug. 5.
Regardless of what you want to call this extended period away from the White House, the president clearly has time to watch TV (including CNN) and tweet.
Here's the clip of Blumenthal on CNN, which is what appears to have set Trump off.
People also called Trump out for attacking Blumenthal's military service, given the president never served, among other reasons.
Trump actually received five draft deferments during the Vietnam War, including one for bad feet. Moreover, during an interview with Howard Stern in 1997, Trump claimed avoiding STDs while dating was his "personal Vietnam." Trump told Stern women's vaginas were "potential landmines," adding, "there's some real danger there."
Many people on Twitter referenced both of these factors while responding to Trump's tweets about Blumenthal.
This all has to do with remarks Blumenthal made many years ago.
In 2010, The New York Times revealed Blumenthal made misleading comments about his military service during a ceremony for veterans and senior citizens in 2008. At the time, Blumenthal's remarks made it seem like he served in Vietnam, when he actually served stateside in the Marine Reserves after receiving five draft deferments. To Blumenthal's credit, he owned up to what he said, and offered a heartfelt apology.
At the end of the day, unlike Trump, Blumenthal did actually serve in the armed forces. Trump has commented on this issue before, but didn't have his story straight, according to PolitiFact.
Blumenthal appears to be unfazed by Trump's repeated attacks, and clapped back on Twitter.
Long story short, Trump might want to avoid any personal attacks involving military service in the future, especially in relation to Vietnam.