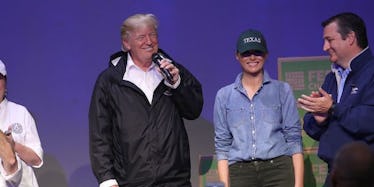 This Is Where The Trumps Say They're Donating To Hurricane Harvey
Win McNamee/Getty Images
Last week, on Aug. 31, the White House announced that President Donald Trump would be donating $1 million to Hurricane Harvey relief. A lot of people did not believe it, because Trump has a noted history of claiming he'll make a donation and then not actually doing it. But, lo and behold, the White House has released a list of organizations where Trump's Hurricane Harvey donation apparently went on Wednesday, Sept. 6.
The $1 million "personal donation" is going to 12 different organizations, according to the White House press release. The organizations were chosen based both on the work the Trumps saw while visiting Harvey's destruction in Texas in the last week and recommendations from the White House Press Corps. Almost more unusual than this statement that he's actually making the personal donation is that Trump thanks the Press Corps members who made recommendations. Weird!
The White House statement reads,
The President and First Lady witnessed the work of some of these groups first hand while visiting with hurricane survivors, first responders, volunteers, and Federal, State, and local officials, and are proud to further assist the recovery efforts in Texas.
It adds that "the President and First Lady continue to pray for the people of Texas and Louisiana."
The charities with the biggest reported Trump payout are the old standbys of the Red Cross and Salvation Army with $300,000 each. After that comes $100,000 donations each for Reach out America, a religious-based group that organizes supplies and volunteers, and Samaritan's Purse, a Christian aid group.
The remaining groups get $25,000 each from the Trumps: the ASPCA (animals), Catholic Charities (network of charities), Habitat for Humanity (housing), Houston Humane Society (pets), Operation Blessing (religious charity), Portlight Inclusive Disaster Strategies (for people with disabilities), and Team Rubicon (volunteer veterans who clean up after disasters).
Well, color me surprised. I had little faith that Trump would actually make the donation, given his reported history with charities. With that in mind, let's see if there are receipts from the charities to prove it... or, you know, a tax return.