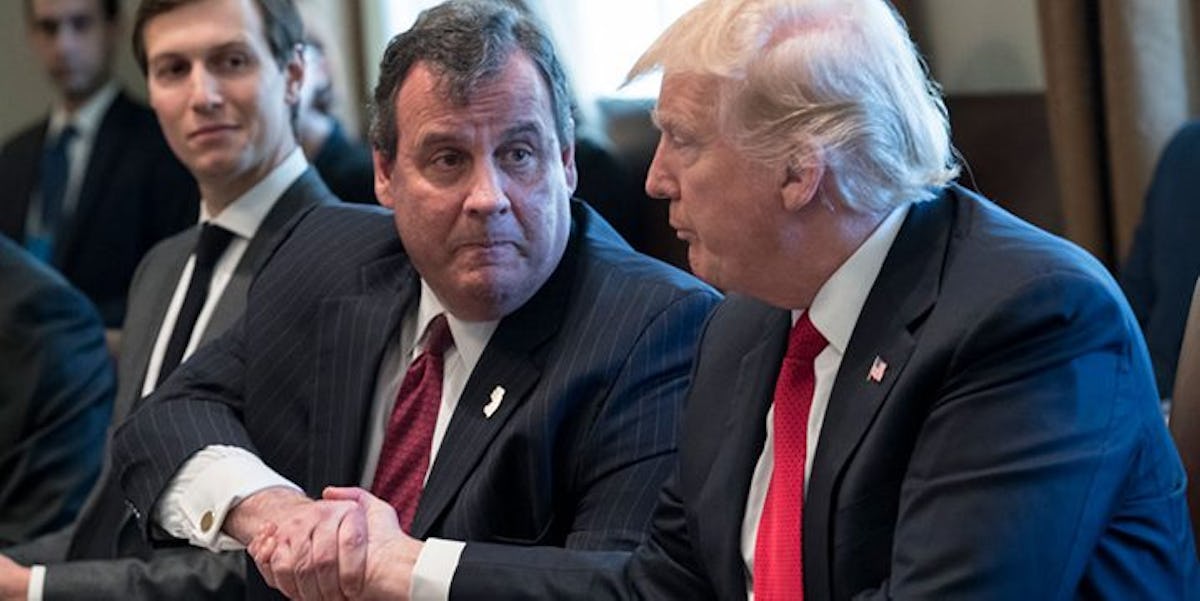 Trump's Germaphobe Ways Ruined His Relationship With Christie, New Book Claims
Shawn Thew-Pool/Getty Images
Donald Trump and Chris Christie's relationship reportedly deteriorated for literally a nasty reason: germs.
According to Devil's Bargain, a new book examining Trump's 2016 election win written by Bloomberg Businessweek senior national correspondent fJoshua Green, Christie's fall from Trump's favor stemmed from an incident on election night.
Christie, New Jersey's governor, told Trump that then-President Barack Obama would call him instead of the new president-elect, according to excerpts of the book published by the Daily Mail.
Christie reportedly told Trump,
Hey Donald. The President talked to me earlier. If you win he's going to call my phone, and I'll pass it over to you.
Trump then reportedly said,
Hey Chris, you know my f*cking phone number. Just give it to the President. I don't want your f*cking phone.
As the story goes, Trump was disgusted at the idea of using Gov. Christie's phone, and the election night exchange was ultimately a significant misstep in their relationship, according to the book.
Devil's Bargain was released on Tuesday, July 18.
President Trump has indeed made no secret of the fact that he is a germaphobe. During a January news conference, denying the allegations of a salacious Russian dossier, Trump told reporters,
Does anyone really believe that story? I'm also very much of a germaphobe, by the way, believe me.
On the night of Monday, July 18, another story denial was made, this time by Christie spokesman Brian Murray, who told the Daily Beast,
The account in the book is complete fiction. Governor Christie never spoke to President Obama on election night nor did he make any arrangements for any phone call from The White House to be placed on his cell phone for the President-elect. Finally, he had no conversation on election night as was relayed in this book with the President-elect. The author should be ashamed of himself in passing off this account as true — it is fiction.
The veracity of Green's story aside, Christie is very clearly out of the president's circle. Otherwise, it's unlikely we'd see the governor criticizing Donald Trump Jr. the way he did this week.
As for why, exactly, he's out of the circle, there's certainly one theory thanks to the new book -- and it's a nasty one.