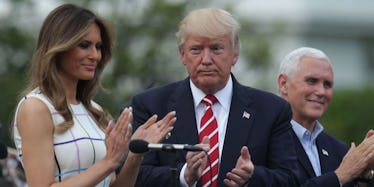 Trump's Fourth Of July Party Plans Are Surprisingly Low Key Compared To Obama's
Alex Wong/Getty Images
In an administration thus far marked by differences from its predecessor, President Donald Trump will continue the trend this weekend. He'll be breaking from the Obama era tradition of hosting a grand celebration on our nation's Independence Day.
Instead, the current president has opted for a mellower affair. He'll reportedly spend the holiday weekend golfing in New Jersey, and then return to Washington D.C. on Monday in time for the July 4th holiday on Tuesday.
According to Vanity Fair, the White House confirmed that the Trumps' official Independence Day celebration will be limited to a picnic on the South Lawn for armed services members and their families, followed by a fireworks display for White House staff and their families.
Meanwhile, PBS will be hosting its annual concert, A Capitol Fourth, featuring performances from The Blues Brothers and The Beach Boys, among others. And across the nation, in addition to celebrations, several protests will be taking place.
These festivities -- for better and worse -- stand in stark contrast to the celebrations in the nation's capital last year. The administration's simple offerings don't exactly stack up to what the Obamas usually whipped up during their Fourth of July celebrations. In addition to fireworks and marching bands, the Obama camp had rolled out some big names for the annual affair.
For the 2016 holiday, President Obama had the likes of Janelle Monaé and Kendrick Lamar to help him celebrate with the rest of the nation. In previous years, he'd hosted Brad Paisley and Bruno Mars. All of us are still jealous.
Obama is the cool party host we all wanted to be in high school, and not just because of the entertainment he brought in. The President himself even got onstage during the performance to sing "Happy Birthday" to his daughter Malia, who had just turned 18.
This year's celebration might just prove to be the start of a new administration's tradition.