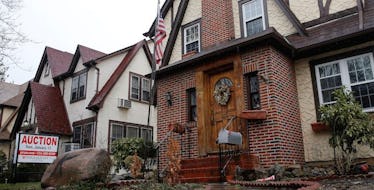 Trump's Childhood Home Is Being Sold To A Mysterious Buyer For Millions
REUTERS
The house that President Donald Trump spent his first years of life in was sold last week, but no one knows who bought it.
It's the case of the mysterious house sale.
Trump's childhood home was sold last Thursday for $2.14 million. That's more than double the price of average homes nearby, according to the New York Times.
The president only lived in that home from his birth to age 4, so it's not like there are secret documents hidden around, if that's where your conspiracy-theory-laden mind goes. But the house was built in 1940 by Fred C. Trump, Donald's father.
The house is in Queens, New York, and is Tudor-style, with a red brick facade. Recent photos show it with an American flag proudly out front.
The house was sold in a brilliant case of flipping (that would make for a really great TV episode, to be honest).
It was previously owned by Isaac Kestenberg and his wife, Claudia, who were reportedly going through a divorce. They bought it in 2008 for $782,500.
Last fall, the couple waited out the election before putting it for sale with a higher asking price, recognizing that it being the former home of the president-elect would get them some more cash.
Michael Davis, a real estate investor, bought it from them for $1.4 million.
And then he went ahead and flipped it and got an even higher price.
But the new buyer of Trump's childhood home is a total mystery.
Sarah Maslin Nir of the New York Times tried to track the buyer down, but couldn't get any official confirmations.
The closest she could get is people saying the buyer is a woman from China.
Apparently, while the house was up for sale earlier this year, many Chinese people came by to check it out, neighbors said.
The house was eventually bought by a limited liability company (LLC) called -- wait for it -- Trump Birth House. Because it was bought by the LLC, the actual buyer's name is hidden.
Nir found the lawyer who represents Trump Birth House. Michael X. Tang works in a "cramped and bustling office" in Flushing, Queens, that helps with Chinese purchases of American properties.
But Tang declined to comment.
According to the New York Times, Misha Haghani, principal of Paramount Realty USA, which facilitated the Trump house sale, said,
I did have some expectation that the purchaser would be a huge Trump supporter from within America. But it is entirely possible that the purchaser is a huge Trump supporter from outside of America.
For now, we just don't know for sure.
Citations: Donald Trump's Modest Boyhood Home in Queens Sells for Millions (New York Times), This couple is about to make millions off Trump's childhood home (New York Post), Mysterious Buyer of Trump's Childhood Home Said to Be From China (New York Times)