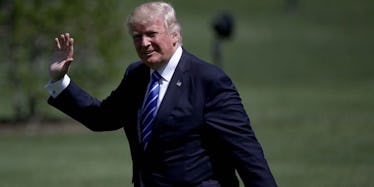 Trump's Budget Hurts Women More Than Men, And No One Is Surprised
Getty Images
President Donald Trump just released his budget for the 2018 fiscal year, which has been dubbed "A New Foundation For American Greatness."
The budget is already generating controversy and backlash, and it's poised to meet a great deal of opposition in Congress from both Democrats and Republicans.
Trump's budget calls for a 10 percent increase in defense spending, which is already America's largest expenditure, and over $2.6 billion for border security.
Meanwhile, it calls for cutting over $800 billion from Medicaid, the federal health program for the poor, over the next decade.
What's more, it calls for slashing $192 billion from nutritional assistance and $272 billion from welfare programs.
So, anyone who is poor or sick would be hit especially hard by this.
But, women, in particular, would suffer a great deal if this budget passes.
Trump's budget hits programs that benefit women, especially low-income women.
President Trump's budget includes a six-week federal paid parental leave policy, which is an unusual move for a Republican.
Overall, however, his budget is awful for women.
The New York Times analyzed Trump's budget, and found it targets programs that tend to spend more on women than men.
Programs that tend to benefit women would see an 8 percent decrease in spending, while programs that tend to benefit men would only see a 2 percent decrease.
The massive cuts to Medicaid would be particularly damaging to women, according to the Center on Budget and Policy Priorities, a nonpartisan research and policy institute.
This is because women make up the majority of Medicaid's beneficiaries (53 percent). Nearly 40 million women rely on Medicaid for healthcare.
Trump's budget cuts also target welfare programs for low-income women (and children), such as the Supplemental Nutrition Assistance Program (food stamps) and the Women, Infants, and Children (WIC) nutrition program.
Women are twice as likely as men to rely on food stamps, and over 7.8 million women and children relied on WIC benefits in 2016.
Trump's budget is a direct attack on reproductive rights.
President Trump's budget withholds all federal funds from Planned Parenthood and any other organization that provides abortions.
Planned Parenthood has never used federal funds for abortion services, because it's illegal (read up on the Hyde Amendment).
But in the GOP's perpetual battle to politicize women's health, the Trump administration is once again attack an institution that provides vital services to millions of women -- including cancer screenings as well as STD testing and treatment.
If Republicans really want to prevent abortions, perhaps they shouldn't cut funding to an institution that's the largest provider of sex education in America (hint hint: Planned Parenthood).
The vast majority of Planned Parenthood's patients are women, and 60 percent of their patients rely on federal funds for their preventative and primary care.
If Trump's budget passes in its current form, it would have a detrimental impact on these women, and they'd be placed in a very difficult situation in terms of finding affording reproductive health care.
Women with student loans who are nurses, teachers, public defenders, or law enforcement officers would also be hit hard by this bill.
President Obama created the Public Service Loan Forgiveness program, which pledged to to cancel any remaining student debt for individuals who work for the government or nonprofits if they've been making their payments on time for 10 years.
Teachers, nurses and public defenders often meet the qualifications to benefit from this.
Women make up roughly 75 percent of teachers, over 90 percent of nurses and the majority of public defenders.
If Trump's budget goes through, the program Obama created would be eliminated and women in these positions may have to pay a median of $60,000 in student debt, according to Fortune.
Budget proposals from presidents are often more of an outline of an administration's priorities rather than a realistic piece of legislation.
With that said, with this budget, Trump has signified to the country he does not see women's health, education, and general well-being as top priorities.
Given Trump once said you have to treat women "like sh*t," perhaps we shouldn't be surprised.
Citations: How Trump's Budget Affects Women (The New York Times)