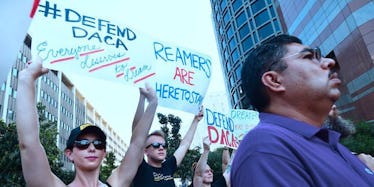 Trump Tweets "Happy Labor Day," But Twitter Is So Not Having It
Frederic J. Brown / Getty Images
While many were busy enjoying their holiday weekends (or pretending not to panic about North Korea), President Donald Trump tweeted about Labor Day. His tweet came just hours after he reportedly decided to pull the plug on DACA, a program that protects immigrants who arrived illegally as children. Unsurprisingly, Twitter isn't having it.
The Obama-era policy Deferred Action for Childhood Arrivals allows those who arrived in the country as children, also known as "Dreamers," to continue working and avoid deportation via two-year authorization periods. There are a host of eligibility requirements for DACA, including military service and education level. According to the Migration Policy Institute, 800,000 individuals have benefitted from DACA since the policy went into effect in August 2012. Among the estimated 230,000 who are eligible for DACA, many are students or workers, or both. Pew Research estimates some 8 million undocumented immigrants help comprise the US labor force.
While an official decision on DACA has yet to be announced, Trump's tweet on Labor Day was still naturally seen by many as a slap in the face to the labor force.
We are building our future with American hands, American labor, American iron, aluminum and steel. Happy #LaborDay!
Last week, the president was allegedly weighing whether or not to scrap DACA. While the president is under no obligation to uphold the policy, many people read the president's alleged decision to dismantle it while simultaneously celebrating laborers on social media as hypocritical.
Other tweets targeted his daughter, Ivanka Trump, and her personal brand, which has come under fire for the factory conditions laborers there have been reported to endure.
Still other people cited Trump's own business empire and reports that he had a history of not paying employees for their work.
Many people tweeted about Labor Day in celebration of immigrants and Dreamers and contrasted it to the president's actions.
While not explicitly in response to Trump's Monday tweet, the message that they opposed his alleged DACA decision was pretty clear.
Happy Labor Day, everyone!