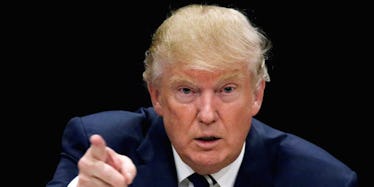 Trump's Unexpected Tweets Actually Helped Stop Congress From Making Shady Move
REUTERS
While they aren't exactly holding hands and singing "Kumbaya," Donald Trump and Democrats seem to have finally agreed on something since he became president-elect, and it forced Republicans in Congress to reverse a very dubious plan on Tuesday, January 3, The New York Times reports.
On Monday, with no prior warning, House Republicans voted in secret to gut the Office of Congressional Ethics (OCE), an independent body that was established in 2008 in order to investigates accusations of misconduct by lawmakers.
This change would've replaced the OCE with a new body, the Office of Congressional Complaint Review, which would report to the House Ethics Committee.
In other words, while much of the country was still nursing a hangover from New Year's Eve celebrations, House Republicans shadily voted to take away the independence and power of an office designed to hold corrupt lawmakers accountable.
A lot of people, including Donald Trump, criticized House Republicans over this.
Trump's comments on this, which came in the form of tweets, prompted a wide array of reactions.
Some were happy to see Trump call out members of his own party, others thought he worded his criticism poorly and was only trying to make himself look good.
After all the backlash, the House ultimately reversed this, and the OCE will remain in place.
While not everyone agreed with how Trump approached this, it's hard to deny that the combination of public outcry and his tweets helped produce this result.
Here's how it all went down:
The sketchy move from House Republicans prompted immediate condemnation from top Democrats and much of the public.
On Tuesday morning, Trump condemned the move on Twitter.
But many pointed out Trump also called the OCE "unfair," and seemed to be criticizing the timing of the move more than anything else.
Some seem to think Trump was just trying to save face and call out something that looked bad.
There's also the fact that Trump still has many conflicts of interest coming into the presidency, which shouldn't be overlooked.
Some also seem to be worried Trump will get too much credit for this.
Still, even if they weren't in total agreement over this, condemnation from Trump AND Democrats (and the public) resulted in the proposal being reversed.
While this barely qualifies as instance of agreement, it's pretty rare to see any level of consensus between Trump and the left.
With that said, we probably shouldn't get used to this.
Trump and Democrats are poised to butt heads over a plethora of issues during his tenure.
But, for now, we can be satisfied Congress reversed this proposal.
Citations: House Republicans Back Down on Bid to Gut Ethics Office (New York Times)