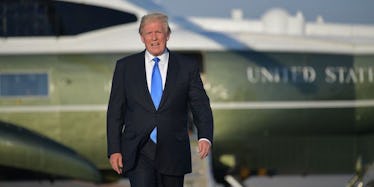 Trump Has Traveled So Much, The Secret Service Can't Afford To Pay Its Agents
MANDEL NGAN/AFP/Getty Images
President Donald Trump has spent so much on travel since entering the White House, the Secret Service can't afford to pay its agents, according to a report from USA Today. Just how much does Trump spend on vacations? Well, according to USA Today, the Secret Service has already spent around $60,000 on golf carts rentals alone this year while protecting the president at Mar-a-Lago and Bedminster. So far in his presidency, Trump has spent at least 75 days at one of his properties and 58 days at one of his golf properties, according to NBC News. All of these visits apparently aren't cheap. It's estimated it costs roughly $3 million every time Trump visits Mar-a-Lago, for example, and he's taken seven trips there since becoming president. As a consequence of all this, the Secret Service is suffering financially. According to the USA Today report, 1,000 Secret Service agents have already hit the federally mandated caps for salary and overtime allowances that were meant to last the entirety of 2017. If Congress doesn't approve additional funding for the agency, it will reportedly not be able to pay agents for work they've already done.
A lot of this is linked to the fact Trump has a big, active family.
In an interview with Kevin Johnson of USA Today, Secret Service Director Randolph "Tex'' Alles said the agency is dealing with an "unprecedented" number of people to protect under Trump. To put this into perspective, Trump has 42 people under protection, while Obama had 31. This is very costly. In addition to his wife, Melania Trump, and youngest son, Barron Trump, the president's older sons, Eric Trump and Donald Trump Jr., also have full-time security details. Both Eric and Donald Jr. both travel across the world to further the interests of the president's business empire, which he has ongoing ties to. In one such example, Eric cost the Secret Service almost $100,000 in hotel rooms alone during a business trip to Uruguay.
Trump's ties to his business empire appear to be costing the Secret Service a lot of money.
When Trump became president he placed his business holdings in a trust to be managed by his two sons, Eric and Donald Jr. Historically, most presidents have put their assets into blind trusts managed by third parties, so this was a controversial decision. Given Trump is still in close contact with his sons, many feel he hasn't distanced himself enough from his business empire. It also now seems that his continued ties to his businesses are linked to exorbitant costs for the Secret Service.
To summarize: In roughly seven months as president, Trump has placed the Secret Service in a terrible place financially due to things such as his frequent golf outings and the fact he refuses to fully separate himself from his business empire.