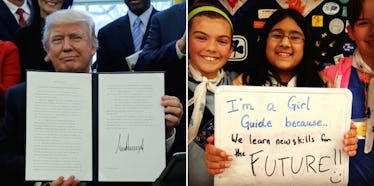 Trump Travel Ban Is Keeping Super Dangerous Canadian Girl Scouts Out Of The US
REUTERS / Flickr
Donald Trump issued an immigration ban, he said, to keep out the "bad dudes."
In reality, Trump is keeping Canadian Girl Guides out of the United States.
So, yeah, that worked about as well as expected.
The Girl Guides are choosing to not travel to the United States for the foreseeable future due to safety concerns. They want to make sure members don't get stuck at the border.
But it also had to do with the xenophobic, discriminatory message Trump's travel ban sends.
Sarah Kiriliuk, national manager of marketing and communication for the Girl Guides, said,
We realize we had to stand by our organizational commitment of inclusivity and diversity. We talk the talk, we try and walk the walk. We're an inclusive and a diverse organization, and this is just an extension of that.
The Girl Guides' trips to the United States are normally done for visiting, history or socializing. The Girl Guides gives girls that experience in a female-only space to teach independence and encourage growth.
We realize we had to stand by our organizational commitment of inclusivity and diversity.
All trips to the US, including those that have connecting flights through US airports, are canceled. Trips already planned and paid for are being reviewed on a case-by-case basis.
Kiriliuk said,
We want to make sure that if our girls are traveling that they are not going to be in a risky or unsafe situation [...] We can't leave a girl behind.
She went on to explain,
Not being able to cross a border, can you imagine what would happen? A group shows up at the border and one girl can't go across — that puts everybody in a very difficult situation. So, we want to make sure the girls are safe and that we are extending that inclusivity and diversity to all of our trips.
Other groups of Canadian youths, including schools and school districts, have decided to cancel trips to the United States due to Trump's executive order.
Girl Scouts — and their international counterparts — are all about supporting women and helping the public.
For instance, I met a ton of scouts in Italy last summer who were volunteering to help migrants and refugees who arrived in the country on boats from across the Mediterranean.
And just last week, on International Women's Day, I bought cookies from a troop holding signs about the future being female.
Actually now that I think about it, it makes a lot of sense Trump would want to keep Girl Guides out of the country. They stand for female independence, empowerment, inclusion and public service for all people, regardless of their religion and skin color. Those are all the things Trump hates.
Citations: Canada's Girl Guides Will Cease All Travel to the U.S. Until Further Notice (Jezebel), Girl Guides of Canada suspend trips to U.S. citing border concerns (The Star)