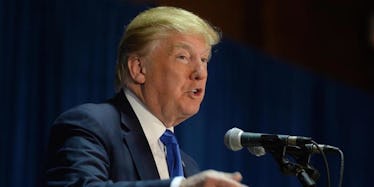 Trump Says In Order To Defeat ISIS He Would 'Take Out Their Families'
Getty Images
Donald Trump just unveiled his new strategy in defeating the Islamic State: killing the militants' family members.
According to Mediaite, the Republican presidential frontrunner called in to "Fox & Friends" this morning to reiterate his plan of dramatically increasing bombing campaigns against the terrorist group.
Trump previously said he would "bomb the sh*t" out of the Islamic State, and today he reminded the show's three cohosts his attacks would "hit [ISIS terrorists]... so hard, like they've never been hit before."
When cohost Brian Kilmeade asked how Trump would avoid killing innocent people, Trump said he would "do [his] best, absolute best" to prevent civilian casualties.
Trump then pointed out "one of the reasons we're so ineffective" in eradicating the Islamic State is the group's use of civilians and even family members as human shields.
Trump said the solution for this dilemma is to simply "take out" these shields.
.@realDonaldTrump: "I'd knock the hell out of ISIS... you have to take out their families." https://t.co/ju4LYTl0JV — FOX & Friends (@foxandfriends) December 2, 2015
Cohost Elisabeth Hasselbeck reportedly immediately changed the topic to immigration after Trump's suggestions, which seem to ignore the likelihood of civilian casualties fueling more extremism and unrest.
Citations: Trump Declares How to Defeat ISIS: 'You Have to Take Out Their Families' (Mediaite)