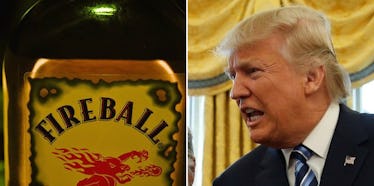 Trump Staff's Drink Of Choice Is Fireball, And Now Everything Makes Sense
Flickr / REUTERS
With a new president in the White House comes new habits in the city of Washington DC.
And one of those new habits with President Donald Trump, apparently, is Fireball shots.
The Old Ebbitt Grill is an institution in DC. It sits right by the White House and frequently hosts staffers as they wind down (... or fire up) after a long day.
The Old Ebbitt Grill is reporting they've seen a massive increase in sales of Fireball since Trump's inauguration.
The tavern sold 56 shots of Fireball on Inauguration Day and 27 the next day (which was the day of the Women's March), according to the Washingtonian.
Typically, the Old Ebbitt sells about 10 shots on any given Friday or Saturday, so it was definitely a marked increase.
On Inauguration Day, the Washingtonian reported, one Trump supporter shouted,
For all my Republican friends, Fireball!
Another man added it "feels good to be a Republican again."
Another bar, Capitol Lounge, told the Washington Post they're seeing an increase in sales of Tito's vodka and Bud Light.
But it's not just the alcohol choices that are changing in the local DC scene since Trump took office and new staffers invaded the city.
The Luigi Parasmo Salon and Spa in Georgetown is seeing an increase in blowouts and French manicures, according to the Washington Post.
Parasmo himself believes this is because of all the New Yorkers who came with Trump down to Washington. He said the new clients are "somewhat trendier" than the older D.C. crowd (the New Yorker in me is very proud).
The salon owner said there's "lots of long hair." He added,
In general, big city people tend to be more attentive to their hair, nails and skin care.
For the record, Trump's presidency is changing the salon scene back in New York as well.
Last month, a stranger at a bar asked me about her new dye and I told her it was a great blonde, looked really cool and natural.
In a panic, she told me,
No! It can't be blonde! I don't want to look like Ivanka!
She planned to go back to the salon to get it dyed darker.
Citations: What The Trump Administration Means For Old Ebbitt Grill (Washingtonian), French manicures, Bud Light and fly fishing: How Trump staffers are changing Washington (Washington Post)