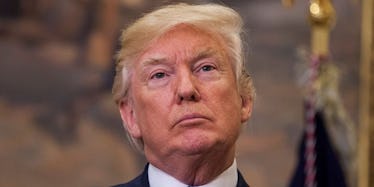 Trump Sharing A Story With Anonymous Sources Is As Hypocritical As It Gets
Pool/Getty Images
Donald Trump has long criticized news reports citing anonymous sources. The president has also praised his attorney general, Jeff Sessions, for combatting leaks from anonymous sources as well. And yet, on Tuesday, Aug. 8, Trump tweeted a North Korea story citing anonymous sources.
Unsurprisingly, he drew criticism for doing so as well. After Trump shared the Fox News report about North Korean military activity discovered by U.S. spy satellites, many pointed out the incoherence between his retweet and his criticism of leaks.
Trump's repeated criticisms of reports with unnamed sources are well-documented, mostly because he's voiced those criticisms publicly via Twitter. His most notable critiques of such news reports have come after unflattering stories about his presidency appeared in the press.
One example? In March, Trump insisted that reporting about potential ties between his presidential campaign and Russian efforts to influence the election was "fake news." He then went on to assert that a greater concern was leaks of classified information.
Despite his concern for leaks, the president still promoted a story that appeared to divulge just that: classified information.
An appearance on Fox News by Trump's ambassador to the United Nations, former South Carolina Governor Nikki Haley, seemed to confirm the sensitivity of the information reported by Fox News.
During her Tuesday morning interview on Fox & Friends, Haley refused to comment on the North Korea report, saying,
I can't talk about anything that's classified. And if that's in the newspaper that's a shame.
She then added,
But I will tell you it's incredibly dangerous when things get out into the press like that. You're not only just getting a scoop on something, you're playing with people's lives. And this has got to stop. Whatever the leaks are coming from, if somebody thinks they are getting power or fame from it, all you are doing is putting Americans in danger.
Still, Trump appeared to confirm the veracity of information his own ambassador thought should be kept discreet. Needless to say, it contradicts his repeated criticisms of other stories with unnamed sources.