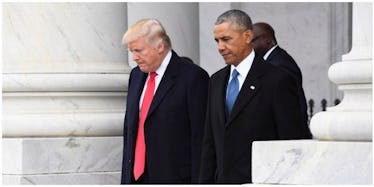 Trump Says Obama "Didn't Know What The Hell He Was Doing" About Nuclear Deal
Jack Gruber-Pool/Getty Images
Another day, another Trump insult. During an extensive interview with several reporters and editor-in-chief Gerard Baker from the Wall Street Journal on July 25, President Donald Trump discussed topics from health care to golf and everything in between -- and griped about former President Barack Obama. Politico published the full transcript of the interview on Aug. 1, which has been criticized for Baker's familiar tone with Trump (and daughter Ivanka, who stopped by to say hello), and the fact that the transcript contains embarrassing and inaccurate quotes withheld by WSJ.
Trump spoke in a revealing manner about past U.S. policies -- and his continued disdain for Obama.
One snippet of his wide-ranging interview is particularly revealing: when discussing 2015's Iran Nuclear Deal (officially called the Joint Comprehensive Plan of Action, or JCPOA), Trump said that Iran has been "noncompliant" and that then-President Barack Obama "didn't know what the hell he was doing" when he authorized the deal.
(While the deal was brokered by Obama, it involved negotiations between Iran, the P5+1, and the European Union. The P5+1 is made up of China, France, Germany, Russia, the United Kingdom, and the US.)
It's unusual for a sitting president to talk about a former president in such a casual, disrespectful manner. But then again, Trump is best known for his candid and often crude manner of talking about his critics. So this may very well be him holding back.
This is not nearly the first time Trump has criticized the Iran deal or Obama -- both popular topics for the president.
But it is jarring to read one president say of another that he "didn't know what the hell he was doing."
Though Trump just re-certified the plan on July 17, which effectively means that Iran is still compliant with the terms, he was reportedly reluctant to do so.
The casual language and crude criticism in this candid interview could reveal a lot about what the president, who has been openly critical of the deal, might do when the deal is once again up for re-certification.
The deal, which was made official in 2015 after almost two years of negotiations, limits Iran's ability to make nuclear weapons in exchange for lifting crippling economic sanctions. Iran agreed to transform some uranium enrichment plants into science research centers and readjust their nuclear program to focus solely on energy.
But critics say the deal doesn't go far enough -- and allows Iran to ramp up uranium enrichment after year 15. The deal also lifted a long-standing embargo on importing and exporting ballistic missile and conventional arms. The decision to lift this embargo seems to be one of Trump's main focuses.
He even "put [Iran] on notice" back in February -- which is not an official policy position -- after the country performed missile tests.
Additionally, the president reportedly plans to slap Iran with more economic sanctions due to to some of the country's actions not explicitly covered by JCPOA, according to The Washington Post. Interestingly enough, Secretary of State Rex Tillerson revealed at a State Department News Conference on August 1 that he and the president disagree when it comes to JCPOA.
The whole exchange can be found below,
WSJ: You mentioned the Iran deal, but it's been certified as in compliance twice now. It comes up again in September. Would you – is there going to come a point where you just – PRESIDENT TRUMP: Well, we're doing major studies. Oh, I would be very surprised if they will be – look, we've been extremely nice to them. We've been extremely nice to them in saying they were compliant, OK? We've given them the benefit of every doubt. But we're doing very detailed studies. And personally, I have great respect for my people. If it was up to me, I would have had them noncompliant 180 days ago. WSJ: Do you expect them to be declared noncompliant the next time? PRESIDENT TRUMP: Personally, I do. I do. WSJ: In September? PRESIDENT TRUMP: I think they'll be noncompliant. I think they're taking advantage of this country. They've taken advantage of a president, named Barack Obama, who didn't know what the hell he was doing. And I do not expect that they will be compliant.
Recertification takes place every 90 days, so it won't be long until we find out what Trump really plans on doing with the deal -- a process which should go smoothly, given that deals are his self-proclaimed art form.