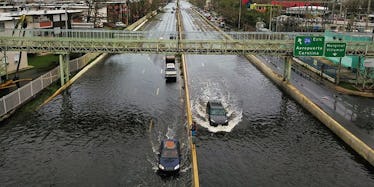 Trump Vaguely Says "Big Decisions" Will Have To Be Made To Help Puerto Rico
RICARDO ARDUENGO/AFP/Getty Images
President Donald Trump's latest social media update on the state of relief efforts in Puerto Rico included a vague detail about the cost of those efforts. In a pair of tweets sent out on Friday morning, Sept. 29, the president said "big decisions" will have to be made regarding how the rebuilding efforts on the island will be funded, without elaborating on what those decisions are or why they're necessary. Trump's tweets about Puerto Rico on Friday began with the president quoting and interview Puerto Rico's governor gave earlier in the morning:
Puerto Rico Governor Ricardo Rossello just stated: "The Administration and the President, every time we've spoken, they've delivered...
Trump then added,
The fact is that Puerto Rico has been destroyed by two hurricanes. Big decisions will have to be made as to the cost of its rebuilding.
Without the president providing an explanation of what those "big decision" will be, the tweets only led to more questions for the administration. So, when Trump's Homeland Security Adviser Tom Bossert joined CNN's New Day shortly after the president sent his tweets, the administration official was predictably asked to clarify what Trump meant.
After CNN anchor Chris Cuomo opined that the president made it sound as if there was an open-ended question as to whether or not Puerto Rico would get the help it needs, Bossert replied,
Well, let me tell you two answers: We always have big discussions after disasters as to cost, but what you need to know is that Puerto Rico started this one $72 billion in debt, so the president's 1,000 percent right. We're gonna have to figure out how to handle this as we move forward.
Bossert later added,
The idea here Chris is, with them being in debt they don't have enough ready the liquid cash to pay their normal share like Florida and Texas had ... So what we're gonna do -- and the president's already done it -- is give a 180-day cost-share adjustment. Federal government's paying 100 percent of the tab here to make sure lives are saved. We're worried about the big decisions later, that's the president's point.
Here's a video showing part of Bossert's Friday morning appearance on New Day:
The "cost-share adjustment" Bossert mentioned refers to an authorization President Trump made last week, when he adjusted the cost sharing of relief efforts in Puerto Rico to be 100 percent funded by the U.S. governments for 180 days -- and at no cost to Puerto Rico's government, for the meantime at least.
Both Trump and Bossert's statements on Friday hint that the discussion on how Puerto Rico will pay its share -- if any at all -- will be decided after those 180 days.
Trump's comments come at a time of great scrutiny for the White House in regards to how the administration is responding to the aftermath of Hurricane Maria's impact on Puerto Rico.
Among the many subjects that have drawn attention were comments from the acting Homeland Security Secretary Elaine Duke, who said that the administrations relief efforts were a "good news story."
I know it's a hard storm to recover from but the amount of progress that's been made, and I really would appreciate any support that we get. I know it is really a good news story in terms of our ability to reach people and the limited number of deaths that have taken place in such a devastating hurricane.
After learning of the secretary's comments, San Juan Mayor Yelin Cruz blasted the remarks. The mayor said,
Maybe from where she's standing, it's a good news story. When you're drinking from a creek, it's not a good news story. When you don't have food for a baby, it's not a good news story. Damnit, this is not a good news story. This is a people-are-dying story.
President Trump is expected to visit Puerto Rico next Tuesday.