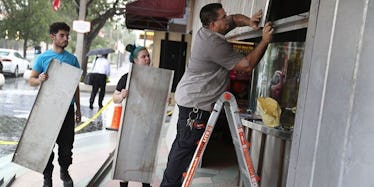 Trump Said Irma "Will Not Be Good" So This Is Serious, Everybody
Joe Raedle/Getty Images
Through a series of words, actions and tweets, President Donald Trump has responded to the imminent danger Hurricane Irma poses for American territories in the Caribbean and the mainland U.S. Some of Trump's Hurricane Irma response came on Wednesday, Sept. 6, when the president warned the storm would be "not good." Trump told reporters,
There is a new and seems to be record-breaking hurricane [heading] toward Florida and Puerto Rico and other places. It looks like it could be something that will be not good. Believe me, not good.
Despite the president's inclination towards hyperbole, this is an occasion on which everyone can take Trump literally and seriously. Hurricane Irma is indeed the largest storm recorded over the Atlantic Ocean in history and it's already begun impacting a number of islands in the Caribbean Sea.
On Wednesday morning, videos emerged showing just how powerful Irma's winds are. As the storm made landfall south of Florida, Gov. Rick Scott warned that Irma would be bigger, faster and strong than the historic Hurricane Andrew, which caused billions of dollars worth of damage to Florida in 1992.
Another part of Trump's response to all this? The president on Tuesday declared state of emergencies for Florida, Puerto Rico and the Virgin Islands. Gov. Scott had already declared a state of emergency for Florida, but, as Fox News mentions, the president's declaration triggers action from federal agencies like FEMA and the Department of Homeland Security (DHS) to start preparing disaster relief efforts.
On Twitter, perhaps the president's favorite medium, Trump exclaimed at the state of Hurricane Irma, assuring everyone that his administration was closely watching the state of storm and remarking on its unprecedented strength.
Should Irma actually hit Florida as hard as many fear (the expectation that it will impact the state is still based on inconclusive projections) Trump's response might soon include a similar action he took after Hurricane Harvey: visiting affected areas to see the damage firsthand.