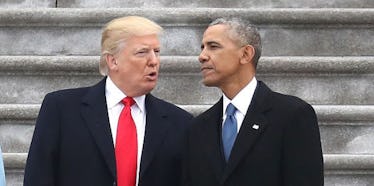 Trump Was Protested In Brussels While People Cheered For Obama In Berlin
Rob Carr/Getty Images
President Donald Trump and former President Barack Obama are both in Europe right now, but the way they've been received couldn't be more different.
As Trump arrived in Brussels ahead of a NATO summit, he was met by thousands of protesters.
In particular, protesters appeared to take issue with Trump's stances on immigration and refugees, as well as his desire to build a wall along the US-Mexico border.
Brussels made it very clear how it feels about Trump.
Given Trump once described Brussels as a "hellhole," perhaps no one should be surprised about how he was received in the city.
The scene as Obama arrived in Berlin was decidedly more welcoming. The former president was treated like a hero.
While in Berlin, Obama spoke in front of the iconic Brandenburg Gate alongside German Chancellor Angela Merkel.
He was met by an adoring crowd of approximately 70,000 people, according to The Guardian.
The crowd reportedly chanted "Barack, Barack" as he arrived.
As he addressed the crowd, Obama expressed his sadness over the recent terror attack in Manchester. He said,
We can see the terrible violence that took place just recently in Manchester. It is a reminder that there is a great danger of terrorism and people who would do great harm to others just because they're different. How heartbroken we are by the loss of life, and we grieve with the families.
But he also used the event as an opportunity to take subtle jabs at President Trump.
Promoting the notions of globalism and tolerance, Obama said, "In this new world we live in, we can't isolate ourselves. We can't hide behind a wall."
The former president urged people to see helping refugees and committing to foreign aid as something that benefits everyone.
A few hours later, Merkel met with Trump and other European leaders at the NATO summit in Brussels, where the U.S. president generated controversy by lecturing the other NATO members on the need to pay their fair share in defense costs.
Long story short, Obama and Trump had starkly different European vacations, to match with their polar opposite perspectives on the world.
Citations: Obama tells adoring crowd in Berlin: 'We can't hide behind a wall' (The Guardian)