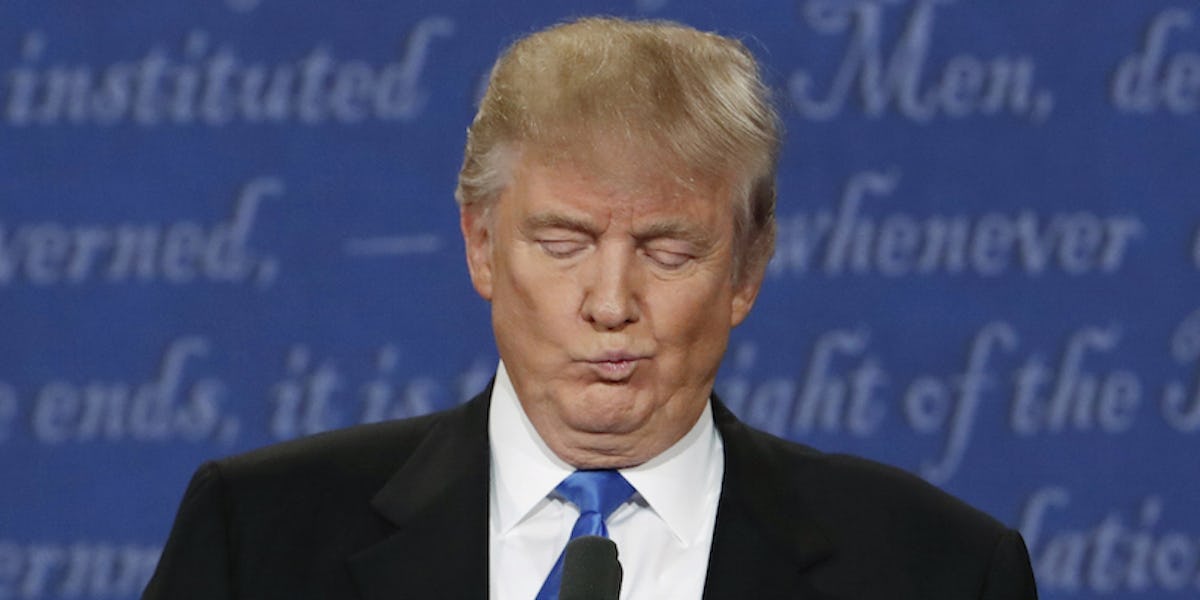 Trump Got People To Stop Masturbating While He Tried To Be A Master Debater
REUTERS
It might not come as much of a surprise, but it appears Donald Trump inspires people to stop masturbating.
During the first presidential debate between Hillary Clinton and Trump on Monday night, traffic for the pornographic website PornHub.com dropped significantly.
It was the most-watched debate in US history, with over 80 million people tuning in to watch a grown man throw a temper tantrum for 90 minutes while attempting to mansplain to a woman who was clearly far more prepared for the event.
Meanwhile, visits to PornHub dropped 16 percent below the average for that day and time across the US.
According to Pornhub Insights, traffic for the website was already a little below average in the hours that led up to the debate, and then plummeted at 9 pm when Lester Holt kicked things off and asked Clinton the first question.
After the debate, PornHub's traffic returned to normal levels for a Monday night.
PornHub also found traffic dropped the most in New Hampshire, Massachusetts and the District of Columbia during the debate, and the least in Mississippi, Alaska and Hawaii.
Those masturbating Mississippians apparently just aren't that interested in politics. And, yes, I really only wrote that sentence because "masturbating Mississippians" has a nice ring to it. Hashtag alliteration.
Interestingly, while the official platform of the Republican Party refers to porn as "a public health crisis that is destroying the life of millions," a lot of the states with the biggest drops in traffic traditionally vote Democratic.
This seems to be a case of what you might call "hypocritical masturbation."
PornHub also saw a drop in traffic in Canada (8 percent) and Mexico (7 percent), among other countries, during the debate.
Accordingly, it seems fairly safe to conclude Trump motivates people across the globe to stop masturbating.
PornHub has experienced traffic drops during live events in the past, such as the recent Apple event in which the iPhone 7 was introduced.