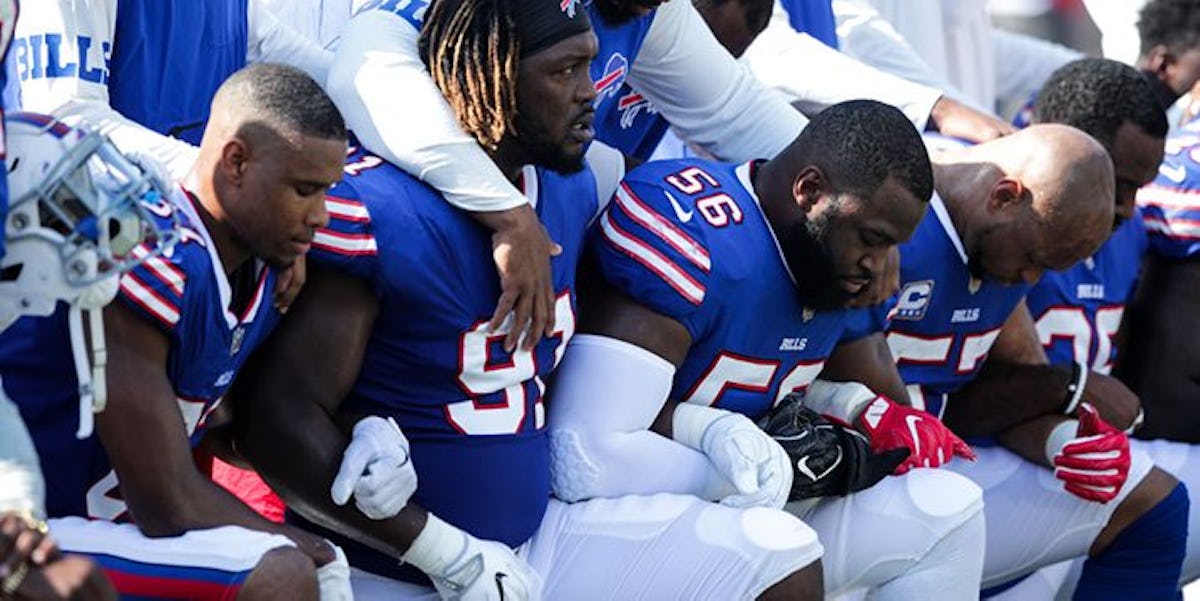 Trump Might Be Right About NFL Ratings, But Not For The Reason He Thinks
Brett Carlsen/Getty Images
During a five-day tirade against the NFL that started with a suggestion that players who kneel during the national anthem should be fired, President Donald Trump has also criticized the league's TV ratings. During this period, each of the president's tweets referencing the NFL's ratings has alluded to protesting players being the reason for a plummet in viewership. Because television ratings aren't exactly a well known subject -- and because of the president's penchant for hyperbole  -- there are bound to people asking the question: By how much, if at all, are NFL ratings going down?
The answer is complicated.
Between the 2015 and 2016 regular season, NFL ratings fell by eight percent. This season, the round of games played during Week 1 of this 2017 regular season experienced a 12 percent drop from last season's inaugural week. Week 2's ratings, meanwhile, were down 12 percent, all according to the New York Times.
The fall of ratings over time is the apparent premise of Trump's numerous tweets about the league's ratings. On Sunday, Sept. 24, the president wrote,
NFL attendance and ratings are WAY DOWN. Boring games yes, but many stay away because they love our country. League should back U.S.
In a subsequent tweet, Trump then said,
Great solidarity for our National Anthem and for our Country. Standing with locked arms is good, kneeling is not acceptable. Bad ratings!
Trump also tweeted about the league's ratings on Tuesday morning. On that occasion he asserted a specific theory for the state of the NFL's viewership, writing,
Ratings for NFL football are way down except before game starts, when people tune in to see whether or not our country will be disrespected!
The latter of Trump's ratings-related tweets came during a series of posts he'd sent regarding demonstrations made during Monday night's game between the Dallas Cowboys and the Arizona Cardinals.
And yet, on Tuesday, ESPN announced that the game saw an increase in viewership of 63 percent over last season's Week 3 Monday Night Football game. Meanwhile, NFL PR rep Brian McCarthy tweeted that, overall, the league's round of Week 3 games (i.e., this past weekend's group of games) saw a three percent increase in ratings compared to Week 3 of last season.
That the number of NFL players who decided to kneel during the national anthem only increased after Trump's criticism during this past weekend's games contradicts the president's assertion that the protests are the specific reason for a dip in ratings.
Then again, one could argue that there was a specific pique in interest for Week 3 that there won't be for Week 4 and beyond, given what Trump said about the league the Friday before Sunday and Monday's games.
This uncertainty points to a basic fact about ratings: the reason behind why they are decreasing is up for speculation.
For example, Dallas Mavericks owner Mark Cuban opined that decreases in viewership are to be expected for TV's programs overall as people are giving up on cable and turning to streaming. ESPN's Darren Rovell quoted Cuban as saying,
If you look at the NFL as well, they may be down versus last year. But when you compare them to hit shows, you'll see those other shows are probably down more.
Even oft-cited survey by J.D. Power seemed to beg more questions than answers. The survey polled 9,200 people and found that among those who watched fewer NFL games during the 2016 season, 26 percent said they did so because of protests during the national anthem. However, only 12 percent of that 9,200 were people who watched less football. 27 percent of the 9,200 surveyed said they watched more.
Ultimately, one would be hard pressed to find conclusive evidence that suggests ratings are down for any one specific reason, never mind the idea that people only tune in near the start of games "to see whether or not our country will be disrespected."