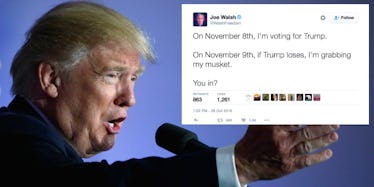 Former Congressman Said He's Going To Grab His 'Musket' If Trump Loses
REUTERS/Twitter
On Wednesday, former Congressman Joe Walsh tweeted he's going to grab his "musket" if Donald Trump loses the election.
This is why we can't have nice things.
Given how ridiculous this sounds, CNN's Jake Tapper asked Walsh what he meant by this.
Walsh replied it means "participating in acts of civil disobedience."
But, as someone pointed out, it seems Walsh has no idea what civil disobedience actually means.
Walsh's tweets and his evident desire to protest the election result seem to coincide with Donald Trump's unfounded assertions that the US suffers from mass voter fraud and the presidential election is "rigged."
He's seemingly prepared to dismiss the democratic process, along with the voices of millions of Americans.
This is perhaps the most un-American thing anyone could possibly do.
Instead of grabbing his "musket," perhaps Joe Walsh should relinquish this erroneous notion that he needs to "take our country back" from somebody.
As Jon Stewart aptly put it in an impeccably worded rant aimed at Trump supporters right after the end of the RNC,
This country isn't yours. You don't own it! You don't own patriotism, you don't own Christianity. You sure as hell don't own respect for military, police and firefighters. …I see you, and I see your bullshit.
Additionally, while it's tempting to laugh at how absurd Walsh sounds, it's connected to Donald Trump's disturbing support for voter intimidation.
Trump has called for people to volunteer to be a "Trump Election Observer" on his website, which states,
Help Me Stop Crooked Hillary From Rigging This Election! Please fill out this form to receive more information about becoming a volunteer Trump Election Observer.
To be clear, this is not something that presidential candidates do. It's an unprecedented and undemocratic move.
Some Trump supporters have actually promised to intimidate nonwhite voters.
For example, Steve Webb, a 61-year-old carpenter and Trump supporter from Fairfield, Ohio, told Matt Viser and Tracy Jan of the Boston Globe,
Trump said to watch your precincts. I'm going to go, for sure. I'll look for...well, it's called racial profiling. Mexicans. Syrians. People who can't speak American. I'm going to go right up behind them. I'll do everything legally. I want to see if they are accountable. I'm not going to do anything illegal. I'm going to make them a little bit nervous.
This is exactly why Joe Walsh's tweet is so problematic.
When you imply America's electoral process is "rigged," you're actively encouraging people to take extreme -- and potentially violent -- methods if things don't go their way on Election Day.