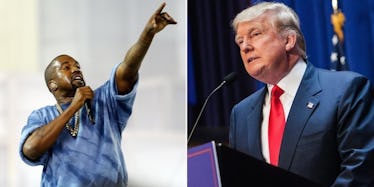 Who Said It: Donald Trump, Kanye West Or Lord Voldemort?
Getty Images
Donald Trump has been giving us a lot of quotable moments in the early stages of the 2016 presidential election.
Taking a cue from Stephen Colbert, who made Trump guess if quotes were said by himself or Colbert's old ultra-conservative "Colbert Report" character, we put together a little game for you.
Now that we know Kanye West will be running for president in 2020, we wanted to do a further comparison of him and Trump.
Trump and West are, in their own ways, visionaries who believe the world would be better if everyone would just listen to and follow their ideas.
And so is Lord Voldemort.
We've compiled quotes from all three. Can you guess who said which?