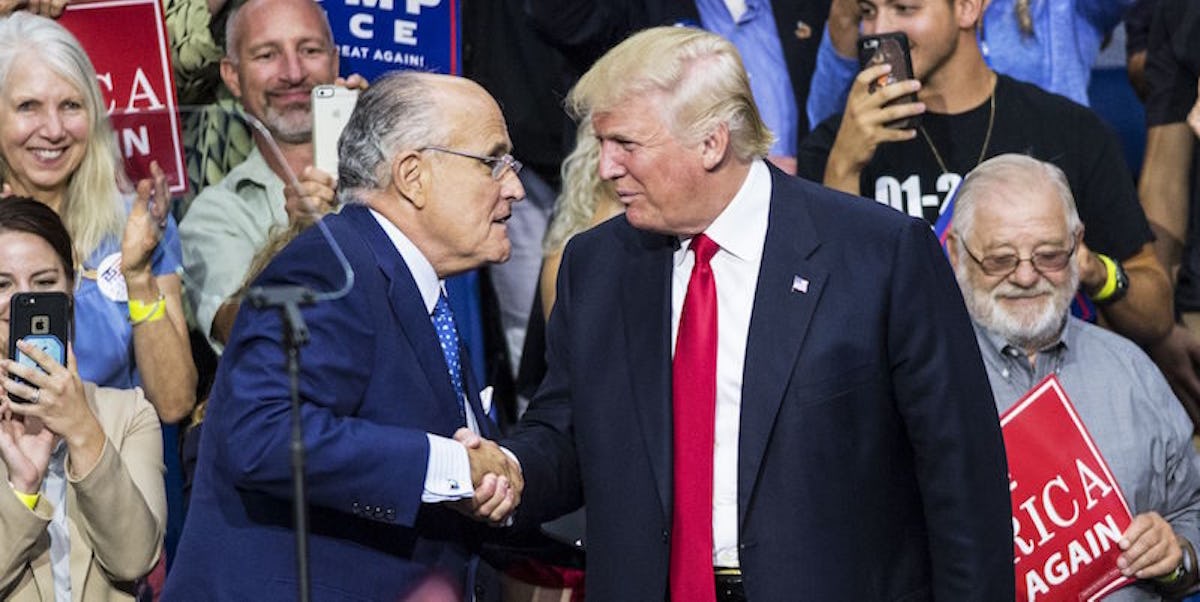 Trump Forced Rudy Giuliani To Wear A 'Make Mexico Great Again Also' Hat
REX/Shutterstock
Trump literally couldn't fit more words onto this hat he made Rudy Giuliani wear.
How quickly does ol' Trump fire up that hat embroiderer?
Sure, he still wants to build a wall and make Mexico pay for it, but somehow, some way, Donald Trump will make Mexico great again... also.
Before Trump took the stage to deliver his immigration policy speech on Wednesday night, former New York Mayor Rudy Giuliani put on a hat that actually read "MAKE MEXICO GREAT AGAIN ALSO."
Like, had I not known there was a "Make America Great Again" hat would I not get this one? Do I have to see the first hat to understand its sequel hat?
Of course he came up with it himself.
Is Trump running for president of Mexico should all else fail? Is that how he's going to get Mexico to pay for that wall? By becoming the president of Mexico and forcing the government to do it?
Senator Jeff Sessions also basically said, "Ooh! Free hat!"
I mean, I've been there guys. Somebody says "free hat" and I am there. I would literally rock a hat that says "I have erectile dysfunction" if it was free, that is how easily my headspace is bought.
Let me get a hat that says:
Make Mexico Great Again Also In Conjunction With Making America Great Again For The First Time All Over Again Hit Me Baby One More Time Canada We'll Get To You Soon And It Will Be Great As Well Believe Me It's Going To Be Huge For The Second Or Third Time And Great Just Like Before Not Like It Is Now But Great Again!
Never forget the runner-up for the most awkward moment experienced between Trump and Giuliani.
Citations: Trump just made Rudy Giuliani wear a "Make Mexico Great Again Also" hat (Vox)